Over the past week, Kim Kardashian and Kanye West have had their already murky reputation dug even further into the dirt as a video leaked, vindicating their arch-nemesis Taylor Swift.
The leaked video proves that Taylor was telling the truth the whole time as Kim clearly edited the footage to frame her rival.
Back when the initial #SnapchatGate scandal broke in 2016, the majority of punters seemed to take Kimye's side, leaving snake emojis on Taylor's social media and forcing her into hiding, from which she still hasn't fully recovered.
But now the opposite is happening and fans are now flooding Kim's social media with rat emojis.
Not only that, but fans have been photoshopping images of Kimye as rats along with a viral image of Kim in jail as she unlawfully recorded and posted the convo with Tay without her permission, which is punishable by a year in prison, according to California law.
What's the superlative of rat? Kim Kardashian West & Kanye West wbk#KanyeWestIsOverParty #TaylorToldTheTruth #TaylorSwiftWasRightAllAlong pic.twitter.com/0Wi1uCo0ew

— Karyn (@karyn_official) March 22, 2020
ℹ️ Under California law, Kim Kardashian could face up to one year of prison time and millions of dollars in damages on the event that Taylor Swift presses charges for public defamation of character and wiretapping. pic.twitter.com/tqWRAOQz7P

— Taylor Swift News (@TSwiftNewsLA) March 22, 2020
Sources:

1. https://t.co/oT8gDroqNB

2. https://t.co/6fEvsA2PAF

Note: It's worth mentioning that Taylor and her team will 99.99% likely not press charges.

— Taylor Swift News (@TSwiftNewsLA) March 22, 2020
And unlike last time when Hollywood appeared to turn on Taylor, Kimye's taking the fall as the vast majority of celebs who have commented on the sitch have sided with Tay and slammed the reality star couple.
Considering the video leak has been such a detriment to Kim and Kanye, it begs the question: Who the hell leaked it?
It was obvs someone with a serious grudge against them who wanted to witness their public breakdown.
So… who was it?
Here, P.TV investigates all the possible suspects who had motive, means and opportunity to hack Kimye's files, track the video and post it for the world to see.
Suspect #1: Blac Chyna
Rob Kardashian's ex has famously had a rocky relationship with the Kar-Jenners, even reportedly suing them over claims that the family interfered with the filming of Rob & Chyna and caused the network to cancel the show.
She later dropped all the fam members from the lawsuit, barring Kim and Kris Jenner who she still blamed for ruining her shot at reality TV fame.
An insider revealed that of all the fam members, Kim was particularly livid at how it all went down.
"Kim is furious at Chyna for dragging the family into court," the source told HollywoodLife.com. "Kylie, Khloe and Kris are upset too that Chyna is fighting with them and trying to sue them over her failed reality show with Rob."
As Chyna is still in the midst of a legal battle with Rob, it's possible that she leaked the vid to damage her most despised Kar-Jenner sibling's reputation.
Plus, if Taylor does press charges against Kim, that would likely stop her from representing Rob in court.
Jay-Z and Beyoncé
It's no secret that two of Hollywood's most powerful couples have had a tumultuous relationship, so the all-powerful Jay-Z and Queen Bey are definite suspects.
Back in 2017, Jay-Z described his relationship with West as "complicated", which is code for 'we fucken' hate each other.'
"It's a complicated relationship with us because Kanye came into this business on my label, so I've always been like his big brother," he told the New York Times. "And we're both entertainers. It's always been like a little underlying competition there with your big brother. And we both love and respect each other's art too, so it's like, we both- everyone wants to be the greatest in the world. Then it's like a lot of other factors that play in it. But it's- we're gonna always be good."
Jay-Z added: "There's gonna be complications in the relationship that we have to get through, and the only way to get through that is we sit down and have a dialogue and say, 'These are the things that I'm uncomfortable with,' These are the things that are unacceptable to me.' This is what I feel. I'm sure he feels that I've done things to him as well. I'm not a perfect human being by no stretch."
Then in December of last year, punters were convinced that they were A-OK as they posed together at Diddy's bday party, but if you ask me, the body language reeks of underlying tension.
Kourtney Kardashian
In the trailer for the 43279328th season of Keeping Up With The Kardashians, Kim and sister Kourtney come to blows, proving that their rocky relationship has become even rockier.
As we don't really know where the two stand right now (with rumours circulating that Kourt wants to yeet the fuck out of the show to escape her younger sis), it's possible that this was a Kourtney Kardashian revenge plot.
One of the many businesses Kim's sued lately
Studying law has made Kim more litigious than ever and in the last few years she's sued (and won cases against) a whole bunch of businesses.
She recently sued an Alabama doctor for using her likeness to promote the vampire facial, along with app maker iHandy for allegedly using one of her Instagram posts without authorisation for marketing purposes.
And she won $2.8 million from fast fashion company Missguided in a lawsuit claiming that the company used her "persona and trademarks" to sell replicas of her outfits.
Pretty much any business-owner had motive against her considering she's clearly on a legal rampage.
Kris Jenner
Social Distancing is the most important thing! Please take it seriously pic.twitter.com/sagtAZUMXQ

— Kim Kardashian West (@KimKardashian) March 23, 2020
Let's be real, all of the above suspects were merely fodder to entertain the bullshit notion that Kris Jenner isn't behind *every* Kar-Jenner scandal.
As I wrote earlier, the Kardashians are onto their umpteenth seasons and they're clearly out of ideas, so Kris had to dig something up to create some semblance of a storyline.
It's likely that she's had the Taylor video in her back pocket for a while and was waiting 'til they were desperate to bust it out and it looks like that time has come.
I look forward to watching the drama unfold in the next season of KUWTK.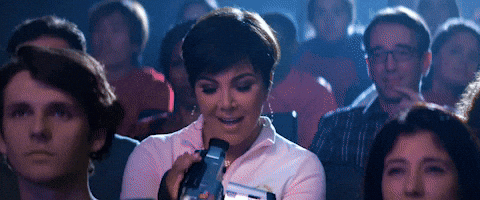 For more KUWTK conspiracies, check out our previous investigation here.