Gigi Hadid has copped her fair share of flack since entering the modelling industry back in 2011.
From haters trolling her fluctuating weight to ex-supermodels like Stephanie Seymour dubbing her a "bitch of the moment"  instead of a 'real supermodel', Gigi's put up with a decent amount of shit.
Now, on her latest visit to Sydney – to celebrate the upcoming launch of her new Reebok x Gigi Hadid collection – the young model's responded to claims that she doesn't "deserve" the life she has, and that she's only successful because of nepotism.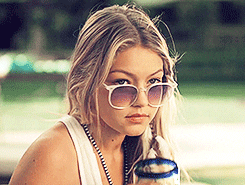 "People say that I don't deserve to be where I am because I come from this successful family, but my parents were fucking hard-working," Gigi explains.
"My dad was a refugee, my mum was on a farm, went to New York and worked to send money back to her family. They worked their asses off and they've given me a life because of their hard work, and I work hard to honour that.
"I shouldn't stay in my house because people say 'you don't deserve to be here because they were successful'. That's not how I consider it in my house."
Gigi adds that there are plenty of other kids who came from wealthy households, just like her, but they had shitty work ethics and have done nothing with their lives.
Gigi went on to reveal that she's constantly confronted by people who reduce her to being a two dimensional rich kid:
"We are all given titles by the world and we are told we're one thing and we're flattened. We're told that we're not good enough.
That narrow-mindedness, Gigi says, has affected both her career and even her experience with her own heritage:
"When I shot the cover of Vogue Arabia, I was 'Arab enough' to be representing those girls, even though I'm half-Palestinian. I'm as Palestinian as I am Dutch. Just because I have blonde hair, I still carry the value of my ancestors and I appreciate and respect that.
"I talk about this with my boyfriend [Zayn Malik] too, he's half-Pakistani, half-English. I feel like when you're mixed race, when you come from two different worlds, you get to see how both sides treat each other and you feel like the bridge of those two sides."
Take that trolls.
Gigi's new Reebok x Gigi collab drops first on December 7th (as part of a limited release) before becoming available in full throughout January and February 2019.
Image: Getty Images / [Astrid Stawiarz]