Following the shock news that Project Runway host Heidi Klum is exiting the show along with Tim Gunn for a brand new Amazon series, the fashion world has been speculating who will be the new face of the series and many punters are betting on none other than Gigi Hadid.
[jwplayer pOv0yCqQ]
"The news that Heidi Klum is leaving Project Runway has caused a major buzz among all the models at New York Fashion week," a fashion insider told Hollywood Life.
"Everyone is excited about the opening and rumours are flying about who will step in and host next. One of the biggest names being thrown around is Gigi Hadid, she's someone that has the confidence and on-air presence to really do the job justice."
The insider adds that much like Klum, Hadid's experience in the industry would make her a kick ass host of the acclaimed reality series.
"Just like Heidi, she's a supermodel with a huge following. Plus she's got a real passion for designing, she fell in love with it when she designed her collection for Tommy Hilfiger, so she'd really be a perfect fit in every way to take over from Heidi."
Hadid also has a lotta experience with reality TV having featured as a guest on the Real Housewives of Beverly Hills during her mama Yolanda's seasons and also on Making a Model with Yolanda Hadid as a mentor.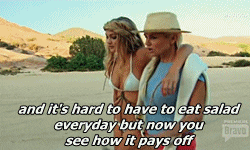 This is all just speculation at the mo as Hadid has yet to publicly express interest in the primed slot.
"Gigi hasn't said it's something she's for sure going to go for but it's certainly an exciting option," the insider explained.
Klum hosted the series for 16 seasons since its inception so those stilettos will be v. hard to fill but I reckon Gigi would rock it.