Netflix. It's one of those sites we've poured hours of our lives into – especially over all the at-home time in 2020. Of course, we adore all the usual suspects for our binges and couch potato marathons, but there is also a heap of homegrown Australian series on Netflix.
Maybe you're due for another rewatch of Kath & Kim (when are we not, tbh) or maybe you're keen to revisit your after-school TV seshes with H2O: Just Add Water, or get your whole heartbroken all over again with Offspring and its devastatingly gripping plotlines.
Or perhaps you really want to have a hearty cry over Love On The Spectrum, because who doesn't love a truly wholesome show to counteract all the reality TV we absorb on the reg?
We perused through the Australian shows on Netflix at the moment and pulled out all the ones that are worth your eyeballs, some great, and others are just good for a quick binge. Get your butt groove on the couch warmed up, we're in for a long haul with all these A+ Australian shows on Netflix, mates.
The Best Australian Shows On Netflix To Get Stuck Into:
1. Kath & Kim
Years Released: 2005 – 2007
Stars: Gina Riley, Jane Turner, Glenn Robbins, Magda Szubanski, Peter Rowsthorn.
A classic, timeless program that surely must be mandatory viewing while passing your Australian citizen test, Kath & Kim is a perfect snapshot of life in suburbia in the 2000s.
Almost like our response to the UK's Keeping Up Appearances, the champagne-diet-on-a-chardonnay-budget of hornbags Kath Day-Knight and Kim Craig (née Day) peers behind the caprice lace curtains of middle-class white suburbia and always punches up.
Kath & Kim has gifted us many things, like telling people to "look at mooiiye" and appreciating a good slogan shirt from Supré, so of course it's at the top of our must-watch list for Australian shows on Netflix.
2. Heartbreak High
Years Released: 1994 – 1999
Stars: Alex Dimitriades, Ada Nicodemou, Scott Major, Emma Roche, Tony Martin, Salvatore Coco, Abi Tucker, Simon Baker-Denny, Callan Mulvey.
Heartbreak High was a true coming-of-age Aussie show in the 90s for those of us who were old enough to tune in during its run between 1994 and 1999. I'd go out on a limb to say it's a big reason why eyebrow piercings and telling people to "rack off" was so huge over those years, too.
This Aussie teen drama that was our equivalent to Degrassi caused a whole generation of 90s teens to fall madly in love with Callan Mulvey as Bogdan Drazic, and served as a launching pad for Aussie actors like Ada Nicodemou (Home And Away) Luke Jacobz (McLeod's Daughters, Home And Away, The X Factor), Simon Baker (The Mentalist, The Guardian) and Scott Major (Neighbours, Blue Heelers) and a bunch more.
Now's the perfect time to get stuck into the original Heartbreak High too, because a reboot of the iconic Australian TV show is in production as a Netflix original and is planned to hit screens in 2022, so why not spend some time with the original run of 7 seasons to prime yourself for more Aussie teen drama.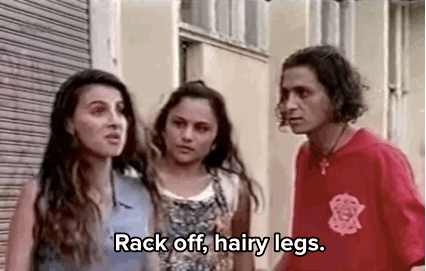 3. Love On The Spectrum
Year Released: 2019
A four-part docu-series that'll both make your heart explode and piss tears out of your face, Love On The Spectrum is as wholesome as it gets. If you've absolutely fried your brain with reality dating TV shows that are full of influencers-in-training and people seemingly wanting everything but love, this series is a palate cleanser for the soul.
Following seven singles in their quest for love and connection, Love On The Spectrum explores dating for people who are on the autism spectrum without ever feeling condescending or gawking. It's a heartwarming reminder that everyone, no matter our experience, deserves to love and be loved in return.
It's Australian TV at its finest, and there simply needs to be more shows like this on both Netflix and every other major platform.
In great news, there's a brand new season landing in May, so what better time to catch up (or rewatch) than now?
4. Upper Middle Bogan
Years Released: 2013- 2016
Stars: Annie Maynard, Glenn Robbins, Robyn Nevin, Patrick Brammall, Rhys Mitchell, Maddie Jevic.
If you've not clocked Upper Middle Bogan before, consider it almost like a flow-on from Kath & Kim. Except Kel Knight is now Wayne Wheeler: a car racing-mad bogan dad instead of a purveyor of fine meats. I refuse to accept these two characters aren't related in some extended Fast Forward comedy universe.
The Aussie comedy series from the minds of Robyn Butler (Very Small Business, Love In Lockdown) and her husband Wayne Hope (The Micallef Program, The Castle) follows a middle-class woman, Bess Denyar, and her family as she finds out she's adopted. Reuniting with her biological parents, Bess learns she's not from the level of wealth and high-end living she's been used to.
Three seasons of the comedic mashing together of middle and working-class Australians in one show? You bloody ripper.
5. Rake
Years Released: 2010 – 2018
Stars: Richard Roxburgh, Adrienne Pickering, Russell Dykstra, Keegan Joyce, Damien Garvey, Adrienne Pickering.
Admittedly, Rake was the one Australian TV show that made me suddenly very horny for Richard Roxburgh. There, I said it.
In Rake, he plays smart-ass, charming, and utterly self-destructing barrister Cleaver Greene, who typically is representing a client who's the guilty party in the situation. Over a whole five seasons of Rake, it progresses through his debaucherous lifestyle, live-fast-die-whenever energy, and eventual shift into politics – because what else is a white middle-class white guy coked up to his eyeballs gonna do?
Oh, and Huge Weaving plays a cannibal in the first season if you're not yet convinced.
6. Offspring
Years Released: 2010 – 2017
Stars: Asher Keddie, Kat Stewart, Matthew Le Nevez, Richard Davies, Jane Harber, Eddie Perfect, Linda Cropper, Deborah Mailman, Lachy Hulme, John Waters.
Ahh, Offspring. The show that 1. made me want to live my best Nina Proudman life in a spacious apartment in Fitzroy (unlikely) and 2. absolutely destroy any shred left of my heart in one fell swoop.
In my humble opinion, this is one of the most modern iconic Australian TV shows. It's got love, humour, family scandals, work scandals, life scandals, all the usual things that send you into a bit of a cold sweat. I absolutely don't want to spoil Offspring for anyone that hasn't seen it, but I can honestly admit that no Australian show – on Netflix or otherwise – has made me piss tears as hard as this one did back in 2013.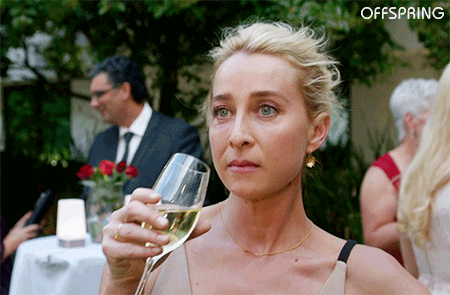 7. H2O: Just Add Water
Years Released: 2006 – 2010
Stars: Phoebe Tonkin, Cariba Heine, Angus McLaren, Claire Holt, Luke Smith.
The most unexpected thing that has happened to H2O: Just Add Water was when a bunch of American TikTok teens discovered it in 2019 and immediately laid into us for how we say the name Cleo like they don't all say Craig like it's spelt 'Creg'. Before that, it was just a show about mermaids you probably watched when you were a kid.
H2O is one of those delightfully daggy Australian shows on Netflix that you stumble upon and feel nostalgic about, and it's kinda got the energy of mashing together Round The Twist with Blue Water High, or a 00s equivalent of Ocean Girl that poses a lot of questions. How did they make those tails look so real? How much did they film underwater? How well can Phoebe Tonkin hold her breath now? Could you even do this in 2021?
Oh, it also absolutely made a whole wave of Aussies deeply desire to also be accidental mermaids after wandering into a magic rockpool on a full moon. Don't tell me you haven't pretended to swim like Cleo, Emma, and Rikki.
8. Pine Gap
Year Released: 2018
Cast: Parker Sawyers, Tess Haubrich, Stephen Curry, Kelton Pell, Madeleine Madden.
If you want a bang for your buck here, then the drama-filled Pine Gap will likely suffice you for a solid day's worth of viewing. A Netflix Original that was also broadcast on ABC back in 2018, the six-part political thriller focuses on the very real (and still operational) US military satellite surveillance base smack-bang in the middle of Australia, commonly known as Pine Gap.
The series is based around the relationships between the Aussies and the Americans in the joint intelligence team, political relations between China, the US, and Australia, and a whole plot based around the suspicion of a spy within the ranks at Pine Gap.
There's also an insanely horny cut-throat razor scene if the whole spies and secret intelligence thing didn't hook you in already.
9. Wrong Kind Of Black
Year Released: 2018
Cast: Aaron L. McGrath, Lisa Flanagan, Tom E. Lewis, Clarence Ryan, Jeanette Cronin, Boori Monty Pryor.
Based on the life of Kunggandji man and storyteller Boori Monty Pryor, this four-part series explores what it was like to live in Australia as a person of colour in the heady days of the 60s and 70s. Though Afro and Black culture were massive through the sudden love of soul and disco, Indigenous Australians are still largely unwelcomed by White Australians and Wrong Kind Of Black explores Pryor's life in Melbourne and its outrageous disco club scene through a deeply turbulent time.
Though he's relocated from Queensland down to Melbourne to try and make a name for himself as a DJ called 'the Black Superman', Pryor's family life quickly follows when his younger brother Paul turns up out of nowhere, forcing their inner-city existence to become riskier.
10. Please Like Me
Years Released: 2013 – 2016
Cast: Josh Thomas, Thomas Ward, Debra Lawrance, David Roberts, Hannah Gadsby, Keegan Joyce, Catilin Stasey, Emily Barclay, John the Dog.
An absolute no-brainer, this one. Josh Thomas's loveable and painfully-accurate depiction of simply existing as a twenty-something, Please Like Me is up there with one of the best Australian shows in recent years, and you can peep it all on Netflix – what a dream.
Considering it kicked off in 2013 right when I was fumbling my way through my early twenties, it made me feel like I wasn't ever alone when my whole life felt like it was going up in some kind of deeply-comedic dumpster fire.
11. Aunty Donna's Big Old House Of Fun
Year Released: 2020
Cast: Broden Kelly, Mark Samual Bonnano, Zachary Ruane, Michelle Brasier, Ben Russell, Ed Helms, Scott Auckerman, Weird Al Yankovic.
What happens when you give three very naughty boys from Melbourne their own TV show? Pure chaos, that's what. Aunty Donna's Big Old House Of Fun is the unhinged brainchild of the Aunty Donna comedy group, with Broden Kelly, Mark Bonnano, and Zach Ruane running rampant in a set house in Los Angeles.
If you've been around the Aunty Donna fever dream enough, whether seeing them live, listening to their podcast, or watching their YouTube channel, you'll love their first venture into longer-form comedy. If you haven't seen them before but love truly fucked comedy (that never punches down), you'll love it. If you just want to learn exactly what is a drum, or why you should never ever touch Broden's noodles, you'll love it.
12. Secret City
Years Released: 2016 – 2019
Cast: Anna Torv, Jackie Weaver, Marcus Graham, Daniel Wylie, Alex Dimitriades, Damon Herriman, Alan Dale, Miranda Tapsell.
Based on the novels from journalists Chris Uhlmann and Steve Lewis, Secret City is a political thriller following a senior journalist who discovers a whole network of conspiracies and cover-ups while reporting on rising tensions between China and the United States.
So that's some Australian shows on Netflix right now, and as the streaming giant keeps updating and refreshing its catalogue, we'll keep updating this list so you know what's primed and ready for you to check out. If you're looking for a bunch of new Netflix series, head to our roundup HERE. Or, our ever-growing list of the best Netflix series ever right HERE.