Sure, the internet has made it way easier to spend our money, but it seems those Christmas crowds at the shopping centres aren't going anywhere soon. Although the influence of social media on the gifts we buy is growing.
Omnibus surveyed 1000 Aussies to find their Chrissy presents buying habits. A full 97% said they will still buy their gifts from a traditional retail store. This seems super surprising for me, but then again I suppose everyone leaves it to the last minute and they don't want to be waiting on delivery times?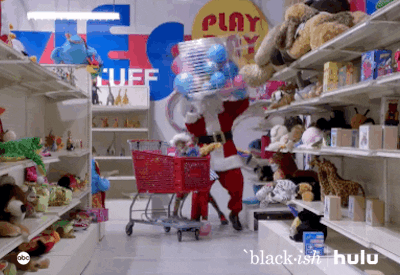 What's more, despite what I feel is a growing movement towards shopping local, 88% said that if they did shop online it would be from the website of a major retailer.
"There is no doubt e-commerce has a significant share of Christmas sales," explains Andrew Reid, General Manager TEG Analytics and Insights, "But the survey shows that the traditional retail store is the top sales channel for Christmas this year."
So where does the rise of online and social media weigh in? Not only is sponsored content on social media having an increasing influence on the trends of the season, but consumers are also getting savvy about checking online reviews and recommendations for products they're looking to buy.
In fact, a full 40% of people surveyed said they checked reviews by other consumers. But that number has a major increase to 74% when you narrow it down to people aged 17 to 34.
So how much are we spending on Christmas presents? Apparently, an average of $636 each, spread out over nine gift receivers. Which actually isn't as cray as I thought it would be. Although Sydney does raise that bar a little at a city-wide average of $750 each. Way to ball guys.