Hello rich people, and people who are just curious about things rich people do. If you've ever wondered what it would be like to have New Year's Eve twice, like actually being there yourself not just getting all the Happy NY texts from one timezone and then partying in your own, and you're in possession of a chill $353,969.70 ($255,500 US) now is your chance to find out.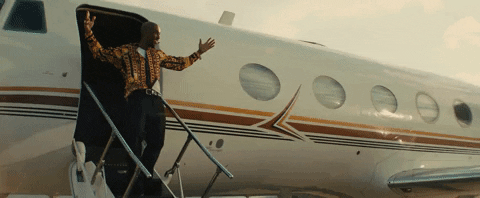 Private jet booking company, PrivateFly, are offering this super extra NYE extravaganza starting in Sydney on December 31 (obviously) at 8 pm where customers can party their little hearts out watching our famous Sydney Harbour fireworks display until 2 am. Then jump on that Christmas decoration decked private jet, like it ain't no thing, and make the cheeky 13.5 over to Los Angeles where you can do it all again from 8.30 pm local time, thanks to the 19-hour time difference.
This is WILD.
$353,969.70 will get you the whole jet, but if you're looking for a 'budget' choice you can split the cost with seven other mates for $44,263.53 ($31,950 US) each. So basically it's the everyman's option…
Apparently, they've got two different flight options for all your party needs. You can pick 'Wellness' and whack on provided designer jim jams and pamper yourself with luxe skincare products while sipping detox juices and a fix-my-body-from-all-the-grog menu. Or you can keep rocking with the 'Festive Flight' and essentially turn that cabin into a mini club.
Ok look, at first I was like HELL YEAH, what a way to ring in the New Year. The locations are both pretty iconic and it'd be one hell of a story. But on closer inspection, HOW would you actually survive this? I barely make it through one NYE and I keep things pretty low-key. Even if I took the 'Wellness' option and slept the whole $353,969.70 private jet ride (!), I really don't think I'd wake up enough to get drunk again. But maybe that's just my premature aging.