Michael B. Jordan is extremely watchable in…well, everything. Creed, Black Panther and now Creed II. No I'm not just saying that because he is a buff tasty treat, because that would be objectifying him and I know you'll hit me with the "omg double standards", "you'd never write this about a woman" complaints so I will just stop myself before it gets outta hand.
But really, he is very good at ACTING in the movie, and also has an objectively fit and muscular physique that he clearly trained very hard for.
Even though we first met him as lil' Wallace in The Wire as a scrawny kid and then as not-scrawny-anymore high school football player Vince Howard in Friday Night Lights, MBJ has spent the last few years getting outrageously buff for different movie roles, including his as Killmonger in Black Panther, and his turn as Adonis *resists urge to say something horny* in smash-hit Rocky reboot Creed. Now, of course, we're about to be blessed with Creed II.
In an Esquire interview with his trainer, Corey Calliet promised Jordan will be lookin' even more jacked (if that is possible) in the upcoming Creed sequel, and he told no lies ladies and gents. The man is B-U-L-K-Y and apparently, it's thanks to ole' Killmonger.
"We time our projects, so we used Killmonger to get ready for Creed II," Calliet told MensHealth.com, "I bulked him up on Killmonger, and then used that bulk to shred him down for Creed II."
How exactly did they manage this shredded bod? Calliet kindly let us in on the secrets when they were still preparing for the sequel. Hint: it involves a shitload of gym time, so feel free to quit your job and buy one of those giant tubs of protein powder before you continue reading.
When we go to Philly [to train], it's going to be like boot camp. We're just going to be eating and training all day: eat, train, take a break; eat, train, take a break; eat, train, all day long.
Calliet says the preparing for the film is "a lot of pain and punishment going on in our lives." The workout regime includes a lot of boxing, obviously, but he mixes in HIIT and jump rope for cardio.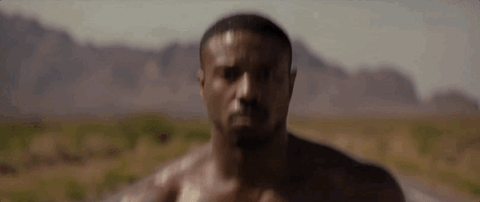 The trainer explains that since Creed 2 takes place three years after the original, Adonis has obviously done 3 more years of boxing, so he needs to look "more aesthetically ripped" than ever. To bulk up those muscles, Calliet put his charge onto a weightlifting regime.
"Imagine that size he was in Black Panther, just more cut, like really really cut," Calliet told Esquire.
Okay. I'll just see myself out.