What better way to kick off a new weeks than with some Good News? Well friends, I've got some for you. The reboot of Will & Grace – which is definitely one of the better reboots we've seen in recent times – has been given a third season, and in my opinion that is worth celebrating, Karen Walker-style.
The series, which in Australia can only be found on streaming service Stan, has been a huge success with both fans and critics. Where some reboots can feel tired, forced – and dare I say, a little pointless? – the new series of W&G manages to be just as sharp-witted and on point as it was back in the late 90s / early 00s.
Also, Eric McCormack (who plays Will) has not aged a single day since the original run wrapped in 2006. Either he's a vampire or I need to know what skincare regime he uses.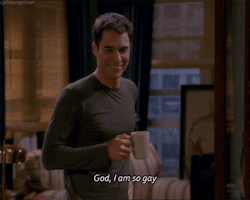 According to a Variety report, the show's US network NBC announced at a panel talk on the weekend that it's ordered an 18-episode third season of the show, as well as upping season two from 13 episodes to 18.
So folks, that's a whole lot more Jack, Karen, Will and Grace for us to feast our eyes on.
NBC Entertainment Chairman Robert Greenblatt was quite simply frothing on the show at the event.
As far as I'm concerned, we can't get enough of Will & Grace and 23 more episodes is music to my ears. We're eternally grateful that Debra, Eric, Sean and Megan feel the same way and wanted to keep this good thing going. I'm overwhelmed by the euphoric response the new show has received from the press and the audience, and my hat is off to the unrivalled writing team of Max Mutchnick and David Kohan, as well as the brilliant directing of Jimmy Burrows, for consistently delivering one of the best shows on television.
At a period when LGBTQI representation on telly is only increasing, it only seems right that one of the shows that spearheaded that representation gets a second time to shine.