Basically as soon as talk of a Charmed reboot started to heat up, Holly Marie Combs – who played Piper Halliwell in the original series – has been pretty damn vocal about her thoughts on it.
Holly, as well as co-stars Alyssa Milano, Rose McGowan and Shannen Doherty, have always said that they were open to appearing in a reboot if it involved the OG characters, and many Charmed fans (including me, hi) were totally for that idea. Sure, Prue Halliwell (Shannen's character) died in the third season, but Ghost Prue would have ruled in my opinion.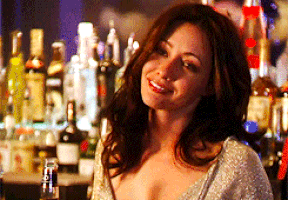 But when US network The CW announced that the reboot would have absolutely nothing to do with the original and instead focus on new characters, Holly became pissed. She also took exception to the fact that the network called it a "fierce, funny feminist reboot", because, uh, the original series was clearly all of those things too.
While some may not get why I take issue with the network that didn't want to renew Charmed 12 years ago 'reimagining' it now let me just say I understand it perfectly. Also this kinda stuff given all that Rose and Alyssa have done lately…um no. Just No https://t.co/Vp2htLtdbR

— Holly Marie Combs Ryan (@H_Combs) January 26, 2018
She's tweeted some delightful shade aimed at the reboot a few times, almost always ending with the flinty "we wish them well". This week, she also got into a Twitter war with the director of the reboot, Brad Silberling. There's a lot to it so feel free to peruse at your leisure, but here's a taste:
That's both inaccurate and untrue. But you do you boo.

— Holly Marie Combs Ryan (@H_Combs) May 19, 2018
The best bit:
I got into a Twitter war with Holly Marie Combs, and all I got was this lousy T-shirt. pic.twitter.com/N9xjDHN9Vi

— Brad Siberling (@BSilberling) May 20, 2018
Holly, please tell us how you really feel.
She backed this up with a statement posted to her Twitter today in response to a Yahoo article that she believes misquoted her. In the statement, she says:
I appreciate the jobs and opportunities the Charmed reboot has created…I will never understand what is fierce, funny, or feminist in creating a show that basically says the original actresses are too old to do a job they did 12 years ago. I hope the new show is far better than the marketing so the true legacy does remain.
ICYMI, she's talking about that cringeworthy first-look at the new series which The CW released this week, which you can see right HERE.
Holly went on to point out:
Reboots [fare] better when they honour the original as opposed to taking shots at the original. Reboots also do better when they listen to a still passionate fan base which is what it's all about, isn't it? That's why we do reboots. The fans are why we all get to do what we do. So we wish them well and hope for success.
There it is! "We wish them well". You can see her entire statement here:
If you're gonna quote me then actually quote me @yahoo. pic.twitter.com/hQ35cXTg40

— Holly Marie Combs Ryan (@H_Combs) May 22, 2018
My take? Holly should keep venting until they finally give in and create a new reboot that she writes / directs / stars in. That would be wild.