The OG Lizzie McGuire theme song goes, "If you believe we've got a picture-perfect plan, we got you fooled." Well they got us fooled alright, but they also appear to have a very picture-perfect plan for the Disney+ reboot and it involves one of your fave characters.
[jwplayer xCDzqVIu]
Adam Lamberg is putting his dorky, know-it-all shoes back on to play David "Gordo" Gordon in a recurring role on the new show.
Our girl Hilary Duff confirmed the news with an Insta pic that took me right back to the final ep where Lizzie kisses Gordo on the cheek in the final scene, proving that she has feelings for him as well.
It looks like Gordo is still the unapologetic outcast, what with the Docs and all, and based on his closeness to Lizzie in the pic, we can only assume that he still has the hots for her.
The question is: Does she still have the hots for him?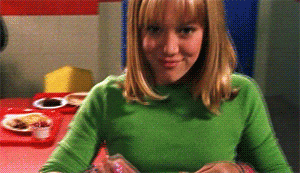 Disney+ shared a vid confirming his return to the series, check it:
He joins recently announced returning cast members Hallie Todd, Robert Carradine and Jake Thomas, who played Lizzie's fam in the original.
"We are standing in what will soon be the McGuire living room. What's up fam. We doin this," Hilary wrote on Insta.
Speaking to E! News, Duff recently discussed what possible storylines the reboot could include.
"I have said this before, but for me coming back when she's 30 and she's not in a marriage and she's not having a baby and she's not doing all the things that I have already done in my life, that story is really exciting for me," the actress told the publication.
"I think to myself, where can we go? What are the struggles of a 30-year-old right now? What are the pressures that life throws in front of a woman who is 30 and doesn't have all the things yet? And for me, that's Lizzie McGuire, she had those struggles in middle school where she didn't have a place where she fits in and you know […] always on the struggle bus, but she's also your best friend, and that's exactly what I want to target and hit home again—is being there for girls in this time of their life."
She also fanned the idea of Lizzie possibly becoming a mama and holy fkn shit, can you even imagine?
"Maybe at the end of the series we see her having a baby? You know, maybe it's hard for her to get pregnant? Maybe there is something bad happening on her 30th birthday in the first episode? Maybe she's going to be in her childhood bedroom in the first episode? I don't know! There's all this fun! We want to give fans what they want, but we also want to have a completely new show."
Disney+ just arrived here in Oz and Lizzie McGuire is expected to drop on the platform next year.