It's no secret that the Kardashian klan have a V. ~fiery~ relationship and lucky for us pervy fans, we get to see a lot of the dramz on their reality series Keeping Up With The Kardashians.
In a new trailer for the show's 15th season, Kim Kardashian goes at big sis Kourtney so hard that she balls like a bb.
"You're just a bitch" a teary Kourt tells Kim who responds with, "Shut the fuck up!"
Check it:
https://youtu.be/WledQmX5TAE
"Oh, hey guys. It's Kimberly. Remember me? It's been a minute. Did you miss us? Because we missed you," asks the 37-year-old.
"But don't worry, you didn't miss anything."
The first scene shows a gorg Khloe Kardashian saying "baby on board!" as a pre-cursor to welcoming her bb True with Tristan Thompson.
"Not much has changed and we've kept a low profile," Kim says, as Khloé talks to new mama Kylie Jenner who hid her pregnancy from the world for nine months before giving birth to lil Stormi.
"My sisters and I are closer than ever," Kim says with a smirk as the trailer leads into the battle of Kourt and Kim.
Later on, Kim remarks, "She doesn't want to be a Kardashian anymore," Kim tells Khloé who responds with, "She can shove Kardashian up her fucking vagina."
"We're still one big happy family," says Kim as Kris Jenner tells model Kendall Jenner: "He's still part of our family," to which the model interrupts, "What about my dad?"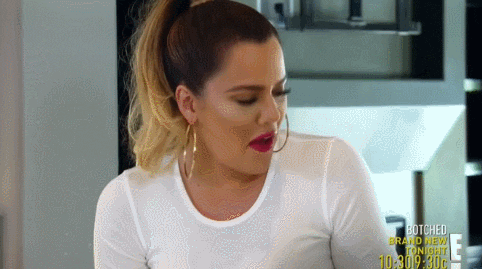 She did NOT go there.
"Are you ready? Then let's begin," says Kim, concluding the trailer with "Can you keep up?"
Dunno 'bout you guys, but suddenly I'm a helluva lot more excited for the show's next season!