Ah, it's that wonderful time of the year: December. Which means I personally go from normal human being to festive fuckwit as the calendar turns from November 30 to December 1. I can't help it, I love it all: decorations, buying presents, and most of all — terrible Christmas movies on Netflix.
Now, I'm saying "terrible" but you know I really mean fantastic. In the tradition of US networks Lifetime and Hallmark, Netflix have jumped on the cheesy made-for-TV movie train and I hope they never get off it. As well as some solid festive Netflix Originals, they also air Lifetime / Hallmark flicks to keep us in the Christmas spirit.
Last year the streaming service delivered us such gems as Merry Kissmas, A Christmas Inheritance and of course, the classic A Christmas Prince (which was evidently so successful it spawned a sequel for 2018).
In fact, here at PEDESTRIAN.TV we love these terrible Xmas movies so much we're going to be posting our reviews of them throughout the month, so keep an eye out for all our takes.
So what Christmas movies are on Netflix in 2018? Well, since I am the aforementioned festive fuckwit I rounded them all up for you. NB: All these films are streaming now as of Dec 1.
1. Christmas Inheritance
An ambitious heiress (Eliza Taylor) must deliver a Christmas card to her dinky hometown in order to land her large inheritance. of course, a snowstorm strands her there and she's forced to work for a living and also discover the true meaning of Christmas.
2. The Holiday Calendar
This 2018 offering is all about a photographer (Kat Graham) who inherits an old-timey Christmas advent calendar that can apparently predict the future — and seems to want her to discover romance this festive season.
We jotted down all our thoughts and reactions to this movie HERE.
3. The Princess Switch
In a visionary mash-up of The Parent Trap and The Princess Diaries, this festive film sees Vanessa Hudgens taking on dual roles — the Duchess of Montenaro and Stacy, a commoner who hails from Chicago and happens to look just like the Duchess. They switch roles and of course, hilarity — and romance — ensue.
Check out our thoughts on this much-hyped Xmas film right HERE.
4. The Christmas Chronicles
90s action hero Kurt Russell takes on an entirely different role as Santa Claus in this family-friendly flick about two kids who sneak onto Santa's sleigh on Christmas Eve and must team up with the bearded fella to (what else) save Christmas.
5. A Christmas Prince
Last year's breakout hit Netflix film (which we reviewed HERE) saw a journo named Amber (Rose McIver) go undercover as a tutor in an attempt to dig up dirt on playboy prince Richard (Ben Lamb). Of course, the duo are soon all *heart eyes* for each other, which means she needs to keep up her sneaky little lie so he doesn't find out.
6. A Christmas Prince: The Royal Wedding
SPOILER ALERT he doesn't care and they fall in love anyway and in this movie they are set to get married. But of course Amber has doubts about the pressure of becoming a princess (don't we all?) and Richard has some royal drama that threatens the monarchy and, perhaps more worryingly, Christmas.
Aside from these original titles, other Christmas movies on Netflix are:
7. 48 Christmas Wishes
In this kid's movie, two idiot junior elves manage to destroy and entire bag of Christmas wishes, so must work to find the lost wishes before December 25.
8. A Christmas Star
In this actually star-studded (Liam Neeson and Pierce Brosnan anyone?) Xmas flick, small child Noelle (Erin Galway-Kendrick) believes she can perform miracles, and must pull off a doozy to save her small town from a big mean property developer (Robert James-Collier).
9. A Dogwalker's Christmas Tale
This film tells the story of privileged millennial Luce (Lexi Giovagnoli) who winds up having to walk a rich property developer's (wow is this a theme here) dog during Xmas and of course meets another dogwalker (Mean Girls / Ariana Grande music video star Jonathan Bennett) who teaches her a) not to be spoiled and b) the meaning of Christmas.
10. A Holiday Engagement
This Hallmark flick sees Hillary (Bonnie Somerville) get dumped by her fiancé just before Xmas. Ugh, timing! So she hires an unemployed artist (Jordan Bridges) to pose as her fiancé at her fam Christmas… nothing can go wrong with this scheme at all.
11. A Wish For Christmas
Sara (Lacey Chabert, another Mean Girls star) is one of those people who is too shy to speak up with her big ideas at work. So she wishes to find courage this Xmas, and Santa grants her request, but there's a a catch: it's only for 48 hours.
12. Almost Christmas
This bittersweet flick is all about a widower (JB Smoove) whose four very different and dysfunctional adult kids come home for their first Christmas since their mum's death.
13. Angel of Christmas
While researching the history of an old-timey family Xmas decoration, a newly-single journo (Jennifer Finnigan) finds out that it has magical powers – and seems to want her to find romance. (So basically the advent calendar movie but a different Xmas trinket, I see.)
14. Angels In The Snow
A bickering family (v. relatable at Xmas, no?) decide to head to a cabin for the holidays, and take in another family during a snowstorm. Of course, that fam's generally sweet dynamic makes them take a long hard look at their own issues.
15. Christmas Wedding Planner
Okay I am low key pumped for this one and will be reviewing it for P.TV, so stay tuned! It tells the story of a wedding planner who's tasked with pulling off her rich cousin's lavish nuptials, but everything is thrown into chaos when a private investigator shows up.
16. Christmas With A View
The manager (Kaitlyn Leeb) of a restaurant at a ski resort is all down in the dumps because her own business venture recently failed. But things are looking up this Xmas when a hot new chef (Scott Cavalheiro) comes to town. (I like to think he is the "view" in the title.)
17. Dear Santa
A gal named Crystal (Amy Acker) finds a letter to Santa from a little girl who just wants her dad to find himself a nice woman, so Crystal tries to help that wish come true. Fun fact: this movie was directed by 90210 babe Jason Priestly.
18. Holiday Baggage
Don't judge me but I am a sucker for movies where when oldies find love (think It's Complicated, Something's Gotta Give). This movie is about an estranged older couple who are forced by their adult daughters to hang out at Xmas, so you bloody know what's gonna happen!
19. How Sarah Got Her Wings
This one starts off sounding dark, but stay with me. It's about Sarah (Lindsey Gort) who dies in an accident but is sent back to earth in angel form to make some Xmas miracles happen.
20. I'll Be Home For Christmas
Another family-friendly flick, this one is about a single busy working mum (Mena Suvari) who just wants to spend Xmas with her daughter — but her estranged father (James Brolin) appears to ruin her plans.
21. Love By Chance
A busy and successful pastry chef (Beau Garrett) has no time for romance, but her meddling mother Helen (Brenda Strong) decides to intervene and set her up with a nice bloke. Not sure what it has to do with Xmas but maybe all of this goes down in December?
22. Merry Kissmas
I reviewed this one last year for P.TV – it's a truly terrible / incredible movie about a woman who is engaged to a self-centred tool and pashes another bloke for reasons I can't remember and the pash has special Xmas powers.
23. Miss Me This Christmas
Regina (Erica Ash) and Eric (Redaric Williams) are everyone's couple goals — but they shockingly break up on Thanksgiving Weekend. With Christmas around the corner, Regina falls for another bloke, but must process the fact that her marriage is actually donezo.
24. Once Upon A Holiday
I love the sound of this one because keyword: princess. A princess (Briana Evigan) decides to run away from her royal life at Xmas, and a handsome normie (Paul Campbell) shows her what everyday life could be like.
25. The Spirit Of Christmas
I want to watch this so badly I'm considering feigning illness right now and running to my house, the synopsis is that good. This movie is about an attorney (Jen Lilley) who goes to an old-timey house to oversee its sale. There, she meets and falls in love with (and I quote directly from the Netflix synopsis here) a handsome yet cursed ghost. Sign me the hell up.
26. You Can't Fight Christmas
I'm exhausted from writing all these synopses so I hope this one makes sense? It's about hugely festive person Leslie (Brely Evans) whose job is to decorate a hotel lobby for Xmas. She falls off her ladder (of course) into the arms of a very Grinch-like man (in personality not looks) and must make him see the (Christmas) light.
So there you have it. That's what the elves are bringing our way this December. Remember to check out our reviews of our top Christmas movie on Netflix which we'll be rolling out every week.
And have a happy holidays, m8s.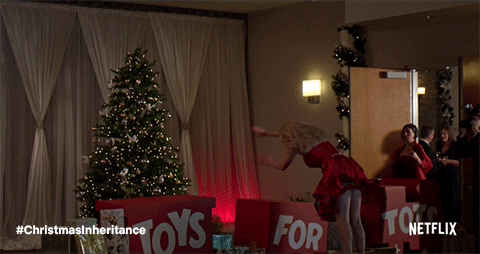 Image: Netflix