They first graced our screens as sassy commentators on Gogglebox but NSW besties Angie Kent and Yvie Jones have proven that they're so much more than that, appearing on this year's I'm A Celeb and obvs The Bachelorette.
But as Taylor Swift once sang: "People throw rocks at things that shine," and in this scenario the shining things are our girls and the people is Foxtel.
TV Tonight previously reported that Foxtel's Executive Director of Television Brian Walsh has barred the ladies from ever appearing on Gogglebox again because he's ticked off about their stint on I'm A Celeb and Bachie.
"You will not see a review of them on Gogglebox," a salty Walsh said back in February.
"From a promotional point of view the issue that upsets Foxtel is the exploitation of the Gogglebox brand to market and sell another program."
Spicy qween Yvie isn't having a bar of Mr Walsh's critique and in a new interview with Who magazine, she labelled his remarks "stupid."
"Such a stupid comment to make. It's not about you, it's about your viewers," she said.
"No one cares what you think, or what is happening to your brand."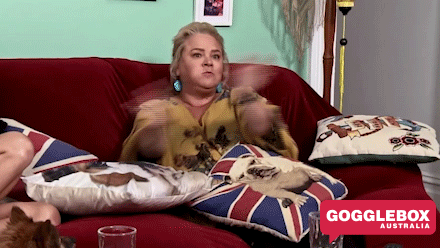 go in, sis
She went on to point out that Walsh made his "stupid" comments while she was overseas filming I'm A Celeb and therefore she was unable to react at the time.
"When we were announced as being on I'm a Celebrity, we were in South Africa and we didn't have our phones so we missed all the hoo-ha," she said.
"It would have been just brilliant to have everyone on Gogglebox reacting to us going to I'm A Celeb. It was such a waste."
Shade aside, Angie and Yvie are set to illuminate our screens together once again this evening when Yvie rocks up to the mansion to throw one helluva bachelorette party for her mate.
Tune in tonight at 7:30 on Channel Ten.