Everyone get your tissues out and prepare to reconcile with some rather heavy news. Spider-Man: No Way Home is going to be Tom Holland's last contractual appearance as the titular hero. Yep, the hottest Spider-Man to date will be all wrapped up once this next movie is out, unless by some miracle they offer him another contract.
We've known since way back in 2016, thanks to an interview Holland gave to The Hollywood Reporter, that the actor was signed to a six-film contract. It's a pretty big deal when you think about it, but now that contract is coming to an end. I just don't want it to be real.
The six films included three stand-alone Spider-Man movies and three appearances in films where Spider-Man was the member of a larger ensemble of heroes. So that's Captain America: Civil War and the last two Avengers films, plus the last two Spider-Man movies. That makes five, and now Spider-Man: No Way Home will mark the official end.
The film comes out in December this year, and I truly do not want daddy Holland to leave my cinema screens. We're running out of hot heroes, and it upsets me greatly.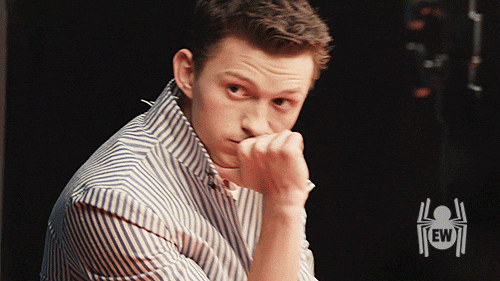 Look at my husband. Adorable.
Holland gave an interview with Collider to talk about his plans for after the contract is over, and just hearing how uncertain he is about the future has me shaking.
"[Spider-Man 3] would be my last one [under contract] so I've always said to them if they want me back I'll be there in a heartbeat," Holland told Collider.
"I've loved every minute of being a part of this amazing world. It's changed my life for the better, I'm so lucky to be here. If they want me back, I'll be there, if they don't I will walk off into the sunset a very, very happy person because it's been an amazing journey."
Okay but as long as he's walking off into the sunset with me, I'll be happy.
"The way I understand it is that agreement between the two studios has already happened. I don't think that they're going to run into the same troubles that they did as we were going into… was it 'Spider-Man 2'?
"I'm just kind of like a kid in the middle of it, between two parents during an argument."
In 2015, Sony, Marvel and Disney struck a deal that allowed shared control of the Spider-Man movie franchise. Essentially Sony gets to distribute and have the final word on films where Tom Holland is the lead, while Marvel and Disney get control over films where Tom Holland is just a side character.
All I know is that this cannot possibly be the end of my husband's career as Spider-Man. I simply will not allow it.