It may not be the reunion long-time fans were expecting but damn does it have the potential to fill the empty chasm in our lives. So according to an exclusive report by American publication Variety, the Spice Girls are currently having a suss around for a production company partner. Why? 'Cos they want to bring an animated superhero movie to the big screen. And you can bet it's all about girl power.
What else would you expect from one of the most successful and fierce girl groups in the world?
The animated superheroes will be voiced by and have a distinct likeness to each Spice Girl member. Each superhero will also reportedly have a power unique to the singer and their personality.
So let's just take a moment to imagine this.
Posh Spice (Victoria Beckham), Ginger Spice (Geri Halliwell), Scary Spice (Melanie Brown), Baby Spice (Emma Bunton), and Sporty Spice (Melanie Chisholm) as kickass superheroes inspiring little girls all around the world.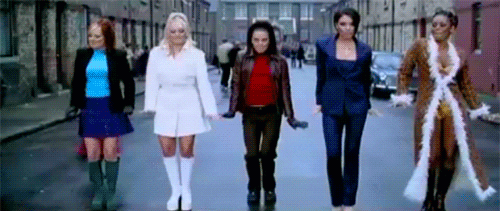 Amazing.
Reunion rumours have been floating around since early 2018 with many expecting the 90s pop group to finally take the stage again.
Just last month, Posh posted this picture to Instagram sending fans into a nostalgic flurry.
A Spice Girls superhero movie would surely include singing… right? 'Cos that would honestly be the best of both worlds.
Move over, Avengers. 
And just for the memories, here's a bloody banger for your Saturday afternoon.
Source: Variety
Image: Getty Images / Tom Roney