We are indeed at the point in history where the Sharknado universe is providing us with a blissful, utopian vision of what our world could have been. According to a bit in The Hollywood Reporter today, actual president Donald Trump was very close to playing the fictional president in Sharknado 3: Hell No!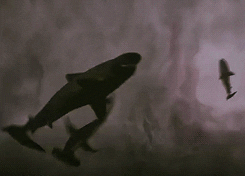 This was months before he announced his candidacy to become the President of the United States in real life, and he was apparently keen as beans to do it. That is, until he decided to take a crack for office.
"Donald's thinking about making a legitimate run for the presidency, so we'll get back to you," Sharknado producer David Latt recalls Trump's attorney Michael D. Cohen saying. "This might not be the best time."
With the Don apparently out, the producers instead offered the role of president to fellow billionaire – and occasional Trump rival – Mark Cuban. Despite the fact Trump was ostensibly out of the production, this still pissed him off immensely.
"Then we immediately heard from Trump's lawyer," Latt told THR. "He basically said, 'How dare you? Donald wanted to do this. We're going to sue you! We're going to shut the entire show down!'"
Have a look at the full article, by the way – it is a wonderful little mini-history for how the Sharknado series into 'Hollywood's D-list answer to a federal jobs-growth program'.
I'll leave you with this tweet to ponder:
https://twitter.com/pattymo/status/892796483988324352