We're already hot under the collar waiting for Quentin Tarantino's Charles Manson-themed ninth film to be released in 2019, but the director's mind is apparently elsewhere. According to reports, he's come up with a concept for a Star Trek film, and the franchise's producer J.J. Abrams is here for it.
Same, tbh.
Of course it's all very "rumoured" right now, but sources tell Deadline that Tarantino, whose most recent film was 2015's The Hateful Eight, has developed a plot for a future Star Trek film and that film studio Paramount is open to the Oscar winner getting involved.
Tarantino has come up with a great idea for a Star Trek movie at Paramount. After sharing his idea with J.J. Abrams (who himself is busy prepping Star Wars Episode IX), I've heard the plan is to assemble a writers room of scribes who'll hear Tarantino's take and begin to put together a movie.
If that wasn't froth-worthy enough for both Tarantino fans and Trekkies alike, Deadline adds that: "If it all works out, Tarantino might direct it, with Abrams producing."
Last year, a fourth Star Trek movie was confirmed, with Paramount revealing that Aussie legend Chris Hemsworth would reprise his role from the 2009 Star Trek film (the first in the current franchise) as Captain Kirk's father George.
Stars Chris Pine (Captain Kirk) and Zachary Quinto (Spock) have signed on for a fourth film, which could very possibly be this rumoured Tarantino version. Zoe Saldana (Uhura) has also told Screen Rant she'd "love to" return for a fourth flick, so hopefully she's got a good pedicurist on her books for all the foot close-ups she's bound to cop.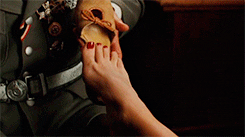 One has to wonder how much Paramount will let Tarantino run wild, with the writer-director's notorious love of graphic violence, gloriously gory deaths and gratuitous use of the word "fuck" leading many of his films to be rated for mature viewers, not the usually youth-friendly Star Trek crowd.
The most recent Star Trek flick to hit cinemas was last year's Star Trek Beyond, which did only okay at the box office as it went up against other US summer blockbusters including Suicide Squad, Ghostbusters and Jason Bourne.
We're gonna go out on a limb here and say that if QT takes over the next film, there will be boonta bums on seats.