Oh, to be Melania Trump. If I were to ever master the power of mind-reading, boy would I love to tap into that brain of hers and see what the hell is going on in there. My guess is that there'd be a lot of hate speech (hate thought?) towards her ~hUsBaNd~ Donald J. Trump over all the shit she's had to put up with over the years.
But hey, she's no victim here either. She's done a lot of fucked up things during her time as First Lady of the United States, from wearing the jacket emblazoned with 'I Don't Really Care, Do You?' just as children were being separated from their families at the borders, she's fronted anti-bullying campaigns while being married to the biggest bully on the planet, not to mention the fact that she hates Christmas. CHRISTMAS.
So no, I don't feel sorry for her, but I am definitely fascinated by her.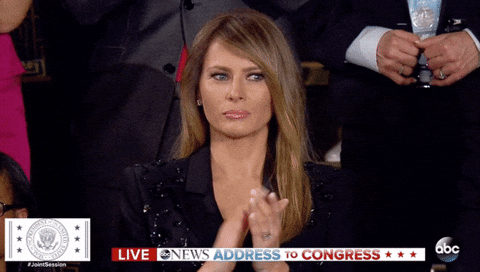 Over the past few horrific years, we've seen Melania Trump become the source of many a viral moment, but my faves are when she snubs her husband in public which must've infuriated him, considering he's all about keeping up appearances and making it look like everyone worships him and he has a nice, happy family and all that BS.
In one final diss to old Donny boy as he's yeeted out of the White House, Melania Trump pretty much bolted from their private jet to their limo, refusing to stop and pose with her hubby.
Have a geeze below:
Melania is totally done. She already quit posing.
https://t.co/BRoBardBgx

— Diego E. Barros (@diegoebarros) January 20, 2021
The video has since gone viral and it's just so bloody good *kissy fingers*.
This is just one of many videos where Melania Trump has publicly humiliated her husband by snubbing him, ignoring him, and / or refusing to pose with him.
Back in October, Melania Trump famously pulled her hand away when, as Whoopi Goldberg puts it on The View, You Know Who tried to hold it as they walked off stage following the debate against Joe Biden.
Have a fucking go at it here:
Melania yanks her hand away from Trump.

(Spotted by @WalnutDust) pic.twitter.com/NHDzoYfSuT

— The Recount (@therecount) October 23, 2020
And let's not forget the long-running and absolutely convincing theory that Melania was already done with Donald's shit shortly after his presidency kicked off as it appeared that a body-double had started doing her public appearances.
Oh Melania Trump, what a time you were.