Just when we think Donald Trump's term as President of the United States couldn't get any more bizarre, does another batshit thing just to prove us all wrong.
But the latest insane Trump update has nothing to do with the Orange One, but rather his first wife Ivana Trump and current missus Melania Trump. 
The two ladies are currently involved in a very public beef, and it's seriously delicious Real Housewives-style stuff.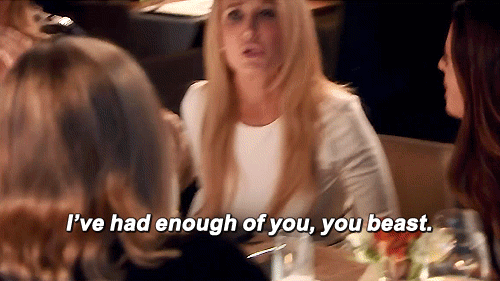 It all started when Ivana, on the promo trail for her book Raising Trump, used an appearance on Good Morning America to well and truly stir the shit.
During the chat, the Czech-born sass queen ran her mouth off about how she's actually the First Lady and still talks to her ex-hubby, to whom she was married from 1977-1992, all the time.
Ivana Trump to @arobach: I don't like to call POTUS at the White House: "I don't want to cause any kind of jealousy" https://t.co/SiTlUUDX2S pic.twitter.com/nyvSj3Wk9O

— Good Morning America (@GMA) October 9, 2017
In a show of fake sympathy for her ex-husband's number three bride, Ivana added that: "I think for her to be in Washington must be terrible." 
Instead of following her FLOTUS predecessor Michelle Obama's mantra of "they go low, we go high", Melania decided to take a leaf out of Donald's book instead and bite the hell back.
Via her spokesperson Stephanie Grisham, she released a statement filled with so many barbs our eyes are watering.
"Mrs Trump has made the White House a home for Barron and the President. She loves living in Washington, DC and is honoured by her role as First Lady of the United States. She plans to use her title and role to help children, not sell books."
Ouch.
The statement concluded with this shutdown: "There is clearly no substance to this statement from an ex, this is unfortunately only attention-seeking and self-serving noise."
Somewhere in America, we like to think Donald's second wife Marla Maples is brewing herself an extremely large pot of tea.