On last night's episode of Married At First Sight (MAFS), Sam Ball spoke shit about his bride Elizabeth Sobinoff once again and his hits seem to be getting lower and lower.
[jwplayer cYRrlbK0]
We see Ball wake up to find Sobinoff missing which leads to a behind-the-scenes rant about his missus.
"Last night Elizabeth decided to make more moves and tried to kiss me some more and stuff like that," he told producers.
"I just hated every second of it, pretty much. I just didn't want a bar of it, I felt sick, a bit… uh, I didn't feel… comfortable at all with what was going on."
"She's obviously woken up and felt very awkward about it, I've sort of brushed it off and it is what it is, but maybe she's a bit embarrassed because I turned her down," he adds.
"I have no idea if Elizabeth's going to the dinner party at all. No idea whatsoever."
Evidently she does not, allowing this to happen:
Sam has made a habit of slamming Elizabeth's looks both on the show and in the media.
He previously told shock jocks Kyle & Jackie O that he "didn't get too close" to Elizabeth 'coz he thought her hair extensions were gross.
He also famously fat shamed her in an early episode, stating that he "never really dated girls as big as Elizabeth in the past," adding "Maybe I'll get her running in the mornings or something, drag her out of bed. I don't know. She'll be right, we will get her going."
Can't stop, won't stop dissing her looks, FFS.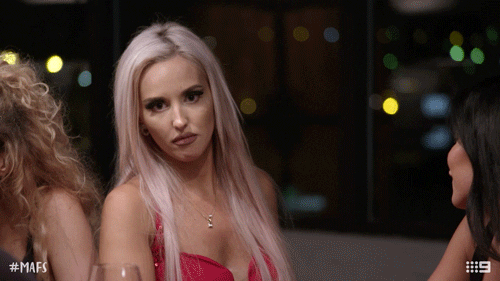 all of australia rn