And the second celebrity couple bust up to hit us in just two days comes courtesy of darling Halsey and her bae G-Eazy.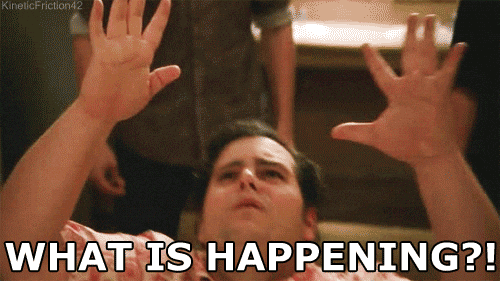 The 'Now Or Never' singer took to her Instagram Story to confirm the news with a lengthy and emotional statement.
Warning: you're gonna wanna bust out the tissues for this one…
"I feel the need to inform my fans. G-Eazy and I are taking some time apart. I'm eager to continue the upcoming passage of time dedicating myself to my art and my career and the duration of my tour. I wish him the best."
Credit: Instagram
Breakup rumours had been floating around the muso duo for weeks as fans noticed that they hadn't featured on each other's social media in a while which was V. unusual for them.
What's more is that Halsey recently removed all traces of her bae from her social media including the photos they had taken together.
And let's not forget the tasty tea that was the following post:
https://www.instagram.com/p/Bkx9AyVH99O/?hl=en&taken-by=iamhalsey
"Kiss my dog on the forehead and then kiss ur ass goodbye," an obvi nod to her saying goodbye to her lover.
She also sent fans into a spin days ago when she tweeted the sombre lyrics to her 2015 track 'Colours.'
You were a vision in the morning when the light came through. I know I've only felt religion when I've laid with you.

— h (@halsey) July 2, 2018
When a fan replied to her tweet and pointed out how the lyrics are still relevant all these years later, Halsey responded with the following spiel which, again, gave fans a hint that the relationship was over.
It's really peculiar and beautiful when a song takes on a new meaning. When it feels like it's about a different person, or when a lyric about something nice turns mean, or vice verse. The songs evolve as we/I do. How amazing. https://t.co/IXM9C8DY1W

— h (@halsey) July 2, 2018
Meanwhile on G-Eazy's side of things, yesterday the star took to Instagram to share a pensive selfie and captioned it: "Rewind" which we can only assume is his way of  saying that he's starting over following the pair's split.
https://www.instagram.com/p/BkvbpsDHRsQ/?hl=en&taken-by=g_eazy
The couple began dating in the summer of 2017, following G-Eazy's split from queen Lana Del Rey, and made their relationship Instagram official in September of that year.
Farewell, baes. You will be missed </3