After you've eaten your weight in ham, slogged more eggnog than you can handle and have explained to Aunt Fern why you're still single for the thousandth time, the last thing you wanna watch is a mad thinker of movie.
What you need is an insanely predictable Christmas flick with a predictable storyline, crappy dialogue and hilarious over-acting to help you wind down.
Here, we've narrowed down the list of suspects with a list of all the corny Christmas movies available on Stan.
The Man Who Saved Christmas
GEORGE COSTANZA MADE A CORNY CHRISTMAS MOVIE.
i repeat.
GEORGE COSTANZA MADE A CORNY CHRISTMAS MOVIE.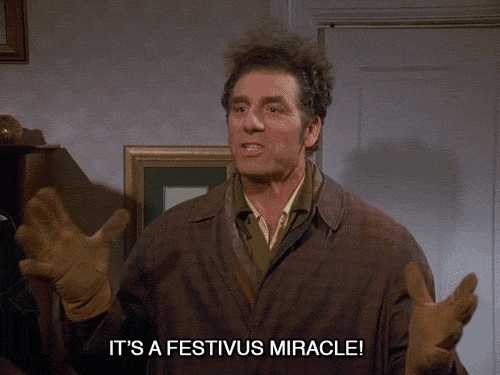 Not only that, but so did Seth fkn Cohen's mum, Kirsten. And, wait for it, it's a true story AND a period film. What a treat!
So basically George Costanza (real name Jason Alexander) plays A. C. Gilbert, a successful toymaker who is enlisted by the government to repurpose his factory to produce items for the First World War. Kind of an odd concept but hey, it actually happened.
Throughout the movie there's a whole back and forth of him wanting to create toys to lift the kids' spirits and his grinch of a dad wanting him to do as the government says to help out with the war.
The trippiest part of this film, in my opinion, is seeing Jason Alexander play a character with a heart 'coz we all know George Costanza would've been the first one to rip out the toy-making equipment to produce mass weapons if it meant scoring some $$$.
Plus the combination of the old-timeyness, the 'could someone pls think of the children' vibe and cheesy dialogue that makes this film a true Christmas delight.
A Song For 

Christmas
Have a go at the premise for this one, will ya?
Two single parents stumble into the possibility of love for Christmas, only to discover that their daughters are school rivals. When the rivalry gets out of control, can hope and healing lead everyone to a peaceful and merry Christmas?
The movie delivers on its promise and is basically a Christmas rendition of Step Brothers, only with teenage girls so actually the dialogue isn't all that different, come to think of it.
If you're a fan of predictable plots and dramatic acting (which I'm assuming you are purely based on the fact that you've chosen to read this article), then this is the flick for you.
Looks Like 

Christmas
No one, and I do mean no one, does corny Christmas like Hallmark and this 2016 cheese-fest isn't one to be missed.
The film stars Hallmark Walk of Famer Anne Heche as a helicopter parent who becomes locked in a battle for control over the Christmas festivities at her kid's school against a handsome dad played by Dylan Neal (AKA Anastasia's stepfather in Fifty Shades).
I'm sure you can envision the plot, the bloopers and the behind-the-scenes goss from that sentence alone but it's defo worth a watch for the pure enjoyment of seeing the pair take jabs at each other as they work through their pent up sexual tension.
Ah Hallmark, we salute you for another divine crappy Christmas flick.
The 

Christmas

 Cure
Returning home for Christmas? Check.
Reuniting with a high school sweetheart? Check.
Torn between returning home to the big smoke or staying in the small town to be with said high school sweetheart? Check.
Brooke Nevin (I Know What You Did Last Summer) actually does a great job at anchoring this otherwise total cheesefest and delivers incredibly soppy dialogue with gusto, so hats off to her for that.
Overall, as far as corny Chrissy flicks goes, it pretty much does what it says on the tin. Oh, and shoutout to the dog who is the real Christmas Cure, here.
A 

Christmas

 Hero
While all the other films on this list have followed an age-old Christmas movie formula and make little to no effort to set themselves apart from their predecessors, I've gotta give this one props for its interesting dynamic, one that I, personally, haven't seen done before.
Rather than portraying the leading man as the strapping, powerful bloke who saves the day and his missus as the doting, Christmas pudding-baking, chipper homemaker, the leading lady in this film is a strong-willed firefighter which gives the film a nice dynamic that you seldom see
The gal in question, Firefighter Jenny falls in love with a divorced father and things get a little hairy when his ex-wife Mary (a bestselling author) basically holds his daughter hostage unless he gets back with her. Okay, not that intense but she basically gives him a tough ultimatum which makes it awkward for everyone involved.
A surprisingly heavy concept coated in warm and fuzzy Hallmark goodness, perfect for your holiday bingeing needs.