It's time to fess up, and I'll know if you're lying: Have you ever used black magic?
Maybe you've hexed an ex? Tried to commune with a ghost via a Ouija Board? Or maybe you've crafted a voodoo doll with the likeness of your boss to get revenge for passing you over on that raise?
No? Never?
Well, the research says you're lying.
Audible has shared a study to coincide with the release of John Safran's black magic-centric podcast that says 52% of Aussies have practiced some form of black magic, whether it be communicating with the dead, casting spells, fortune telling or others.
To get into the witchy nitty gritty of it, here are the specific stats that show what you mystical folks have allegedly partaken in:
35% have tried casting a spell
29% have summoned a spirit, demon or other supernatural entity
A quarter of Millennials (24%) have tried exorcising a spirit, demon or other supernatural entity (including cleansing/sageing a space)
23% have tried communicating with the dead
1 in 5 (20%) of Millennials have tried making and using a voodoo doll
Divination or having your fortune read (tarot card reading, palm reading, etc. at 43%) is the most common occult activity, followed by communicating with the dead (e.g. Ouija board) (27%) and casting a spell (16%)
If they could readily use 

magic

 to influence the world around them, almost half (49%) of Aussies would use it to make more money
Millennials (12%) and men (12%) are more likely to use 

magic

 if they could to make their partner more attractive
A third (36%) of women would use 

magic

 if they could to eat whatever they want and not gain weight
If they had the power to curse people, Aussies are most likely to select politicians (26%) as the target of their curse, followed by strangers who annoy them (19%) and bad drivers (19%)
52% would put a curse on someone if they had the chance, with politicians the most likely to get hit with a hex (HA!)
It doesn't take a tarot card reading to reveal which age group is most likely to have tried pretty much all occult practices: The millennials (we grew up watching Charmed, The Craft and American Horror Story: Coven, what did y'all expect?).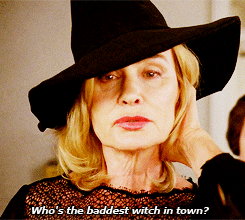 Are you crystal balls deep in this kind of stuff?
Go and check out John Safran's podcast John Safran vs The Occult for more on black magic, satanic practices and supernatural activity in Australia and around the world.
"I've always been intrigued by black magic, which is why I've spent months travelling the globe gathering seemingly impossible stories for my new Audible Original Podcast," he said.
"This isn't going back to the Salem witch trials in the 1600s. They are all modern stories, involving violence and even murder. After I returned home I was surprised to learn how many Australians believe, and dabble, in the occult – although fortunately not the high-end murdery type."
John Safran vs The Occult is now available on Audible.