Abbie Chatfield, queen, legend and Bachie superstar, went on TikTok to drag RuPaul (pun intended) for not travelling to New Zealand to film Drag Race Down Under, and instead opting to green screen in. The only problem? It's nothing more than a wild conspiracy theory.
It's time we got to the bottom of this dilemma.
As I am manning the Drag Race Down Under recaps for PEDESTRIAN.TV, friends, family and former lovers have begun viewing me as a 'Drag Race Authority' of sorts, which is a crown I'm more than willing to wear.
Sadly, dear reader, too many friends have asked me whether Abbie's Ru-spiracy holds a candle to the truth, so I feel it is my duty to snuff this fire out for good.
The rumours are completely unfounded, lack a whole lot of evidence, and just aren't true. So, firstly, let's talk about Chatfield's TikTok vids.
"I was gonna speak on this and then I thought, no, I'm being crazy. I just watched episode 1 and 2 of Drag Race Down Under and I was like… I don't think Ru is there!" she says in video one.
"There are no scenes that you see queens with Ru, first of all, and the responses seem part of a script?"
In her follow-up vid, she even alleges to have evidence. Your honour, I am not buying it. Can we get a jury in here? The evidence is lacking!
Then in part three of her wild claims, Chatfield questions why Ru has been standing so far away from the contestants during the season, saying it looks abnormal.
Well, for the last two seasons (UK Season 2 and US Season 13), Ru has been keeping his distance from the queens when he talks to them in the werk room due to COVID. Sure it looks funny, but he's there goddamn it! He's there! You can see him!
Queen Anita Wigl'it even commented underneath the video, saying that Ru was definitely there, which is as much proof as I'll ever need. The queen has spoken!
TikTok user @chloe.jessop even provided some evidence to the fact that Ru was in New Zealand filming, but Abbie Chatfield still demanded photograph receipts.
"I love this. I love this knowledge, this intel, but I would like some photos of RuPaul either with the queens, or paparazzi photos of him in New Zealand. Can you source them?" said Chatfield.
@abbiechatfield

Reply to @chloe.jessop I love the involvement and the intel. Keep it coming
Although there are pretty much no photographs of Ru in NZ, there are multiple articles that confirm he landed, plus tweets from people who claim to have served him there.
Everything he is on TV + 20inches. I was sweating for 60min straight after.

— emz (@emmyziii) February 7, 2021
May we also discuss the fact that this whole fkn shenanigan happened on episode 1.
not rupaul not even bothering to get into drag for drag race Australia ???????? pic.twitter.com/ZCb8zJY6pE

— ßklyn ➷ (@bkIynights) May 1, 2021
In the first ep, Ru said that his makeup was lost in transit (or more likely his makeup artist Raven was still in quarantine), thus letting us know that he would appear out of drag for the whole season.
However, in the subsequent eps, Ru appeared in full drag (because his team had finally arrived). Why would this entire kaflamba even go down if he was just green-screening it from sunny California?
Not to mention the fact that Ru never really does press, except for one-off sit-ins with the likes of Colbert or Fallon, so it was always unlikely that we'd see him outside of the show. Even when Ru did appear on Colbert's The Late Show, it was pretty obvious that he was sitting in a hotel quarantine (even though he claimed he was in his California home). Drab curtains behind the RuPaul? Would never happen otherwise.
On top of this, the curtains looked eerily similar to the ones in guest judge Rhys Nicholson's interview with Carrie & Tommy, which was also done from hotel quarantine. And, y'know, Rhys openly talks about his experience working alongside Ru… in New Zealand… so there's that.
Evidence aside, this didn't stop Abbie Chatfield from making more TikToks about her theory.
"I'm a fan, I was at opening night… I believe Ru didn't film with them. At all."
My reaction after all of these wild conspiracy theories: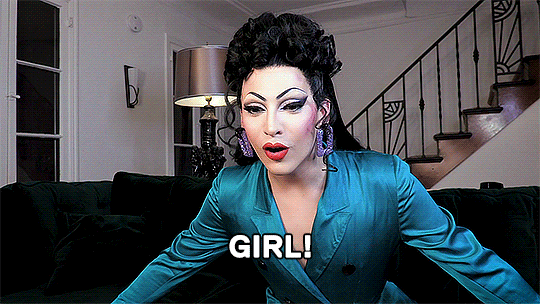 In almost every episode you can see Ru in frame with the queens, interacting, talking to them super quick and vibing off what they are saying.
It would be a miracle of technology and of acting to make this look convincing, and as we've seen, not all of the queens are that ace at pulling convincing performances.
Anyway, Abbie, from one fan to another, all I have is this to say: