There are few foods that divide people more than Vegemite. You either love the tangy spread slathered on toast, topped with a generous slab of melted cheese, or can't stand the stuff.
Really, there's no in between.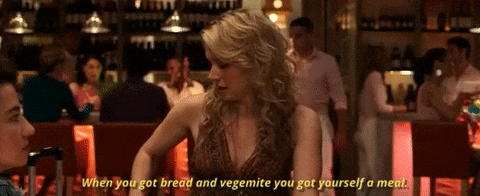 But despite its divisive taste, everyone can agree on at least one thing about Vegemite: it's an Aussie icon.
Now the peeps over at IGA have combined the mighty spread with another one of our greatest delicacies: steak.
Yep, that's right, Vegemite Glazed Steak is now an actual thing that exists. Rather than using Vegemite as some kind of aggressive dipping sauce, the spread forms part of a zesty marinade.
Low and behold, what is probably the Most Aussie Dish of all time:
The whole proposition of teaming beef with Vegemite just reminds me of that thing where people cook pork in Coca Cola – it's whack, but apparently weirdly good? Anyway, don't hate it 'til you try it, right?
[jwplayer t3015h2z]
If you're keen to give it a crack with a few of ya mates, crack open a few tinnies of VB and fire up the barbie, because here's the recipe in full. Godspeed, friends.
What you'll need:
120g good quality, softened butter

2 tablespoons Vegemite

1.5 tablespoons of fresh thyme leaves

8 sirloin steaks
Method:
In a bowl, place the butter, Vegemite and thyme. Season with sea salt and cracked pepper, and mix to combine, until nice and smooth.

Spoon the mixture onto a piece of glad wrap, roll tightly and fashion into a log.

Twist both ends and refrigerate until needed.

Preheat a BBQ to medium-high.

Brush both sides of the steak with a little olive oil or melted butter to prevent it from sticking to the BBQ.

BBQ the steaks until golden brown and slightly charred, four to five minutes.

Turn the steaks over and continue to grill three to five minutes for medium-rare, five to seven minutes for medium or eight to ten minutes for medium-well or until done to your liking.

Ten seconds before removing, add a few slices of the slightly hardened butter to the top of each steak. Transfer the steaks to a plate and rest under foil for five minutes, letting the yummy butter melt into the steak.