A Queensland teenager has been accused of committing a public nuisance because she apparently twerked too much in a McDonald's, the Dalby Herald reports.
The 18-year-old allegedly twerked incessantly, did handstands and attempted to grab a mop at Dalby McDonald's back in November. All of this happened just after midnight.
She then allegedly jumped on the counter so she could keep on twerking as officers arrived at the scene. The girl then locked herself in the bathrooms before she was arrested.
The fact that it's even possible to twerk too much, to the point of being arrested, is frankly wild.
The incident demonstrates both the girl's commendable stamina as well as the Dalby fun police's potential new legal precedent.
Unlike some other publications, we won't be including the girl's name and photograph here.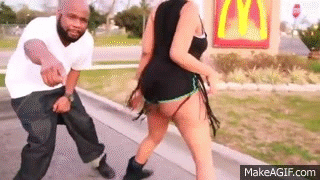 The only crime she's guilty of is cultural appropriation, which she's hopefully learned her lesson about by now.
Although that being said, the next day she was accused of assaulting a police officer after allegedly causing another public nuisance, this time outside nearby pub the Criterion Hotel Dalby.
The teenager didn't attend the Dalby Magistrates Court when her case was mentioned on Tuesday, however it's since been adjourned to the Hervey Bay Magistrates Court four hours away because the girl has since moved to that area.
The court was also told the teenager will plead guilty to all of the charges. Who amongst us hasn't been guilty of twerking too much?