There's no doubt in my mind that the 90s have come back on trend, giving me such a severe fashion and culture whiplash that I'm tempted to sue for damages. There are bucket hats, baggy jeans, the tease of a return of hyper-colour t-shirts (pls pls pls) and I got to talk with an actual god-damned Backstreet Boy on the phone. If I could go back and tell Courtney in 1999 that she'll grow up to being someone who gets to reminisce on the 90s with the Backstreet Boys (!!!) she would not believe me in the slightest.
Yep, legit BSB legend AJ McLean got on the phone with us in the lead up to the Backstreet Boys bringing their huge world tour over to Australia in 2020, and walked me through a few of his choice looks that he kinda regrets.
"There was a point in my hair changes that I ended up getting a spiral perm because I wanted to have an afro," AJ said.
"And I had an afro–it was a legit afro. I had a pick, I picked that thing out. Cornrows, I could never have done that and been fine."
"Sadly I lost my hair, and then I went with technology and got my hair back. So now I've just recently started going back in my head like 'maybe I'll do the frosted tip thing again' I don't know, I'm just kidding."
Look, it was a trying time for everyone, really. I have strong memories of learning about pencil eyeliner and turning out some seriously questionable looks. I distinctly remember owning a "makeup palette" that had lip colour that apparently could also be cream blush and eyeshadow. I understand.
But what looks from the 90s did he actually like?
"I think one of my all-time favourite ones that I ever did when I used to dye my hair, I dyed my hair leopard print," he said.
I have tried in vain to track down a picture of this look because it honestly sounds fucking incredible. Please, someone send me a picture. I need to see.
Until then, more hyper-90s fashion:
The late 90s sure were…a time.
Despite being an iconic poster boy for the 90s and essentially a distillation of that era of fashion, right down to the bleach-tipped hair, tinted tiny sunglasses, and a penchant for an outrageous cowboy hat or full white top hat and tails (?) there is a fashion trend that AJ doesn't think he can revisit offstage.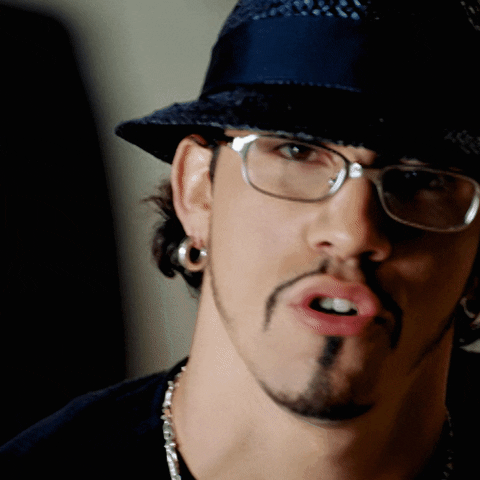 "There were some really bad wardrobe choices, but that's what was in, in that time. And now all that's starting to come back," he said.
That 90s look, the baggy jeans. I will never wear baggy ever again like I wear stuff so tight it's ridiculous. But I could never wear baggy, ever again.

In our show now, I do wear baggy jeans and the first couple of shows it was uncomfortable. You think it'd be the opposite but I was like I don't feel right, I feel like I took a poop in my pants. I don't feel right with this right now.

And now, over the course of this tour, I'm like you know what? If this was tight I'd be sweaty, I'd be uncomfortable, this is brilliant, I love this. I just had to dust off the cobwebs.
The Backstreet Boys are coming to Australia in all their 90s boy band/vocal group glory in May next year, and have just announced a couple more dates in Sydney and Melbourne, because way too many of us are apparently keen as mustard to revisit our own personal terrible fashion choices from the 90s.
Cop your tickets over here, Backstreet's back, baby.
BACKSTREET BOYS AUSTRALIAN 2020 DNA TOUR
Wednesday, May 20
Brisbane Entertainment Centre
BRISBANE
Friday May 22
Qudos Bank Arena
SYDNEY
Saturday May 23
Qudos Bank Arena
SYDNEY
(New Show)
Tuesday May 26
Rod Laver Arena
MELBOURNE
Wednesday May 27
Rod Laver Arena
MELBOURNE
(New Show)
Saturday May 30
RAC Arena
PERTH
Image: Getty Images / L. Busacca