Chances are you've got some unwanted IKEA bits hanging around your house, gathering dust.
It could be a Malm drawer that's sitting awkwardly in the hall, waiting for you to get off your arse and post it to Facebook Marketplace.
Perhaps it's one of those sheepskin throws you bought in a Pinterest-fuelled, Hygge-heavy haste.
Maybe it's a fugly couch courtesy of a stylistically-challenged ex.
Good news: Greg's lime green futon is about to find a new beginning.
Today, Swedish meatball purveyor IKEA has launched Australia's first furniture take-back service, allowing Sydney-siders to give their old IKEA furniture a second life by returning it for it to be sold on to a new customer. And you don't just get good juju for donating it… you'll get a voucher for your efforts, too.
How does it work?
First, you need to fill out an online form and email across photos of your old IKEA furniture which will then be assessed by an IKEA co-worker.
They'll give it a look and let you know if your furniture qualifies for the service. If so, you'll be offered a price for it. You've then got two weeks to bring the furniture to the IKEA Tempe store*, where you'll be gifted a voucher to use as you wish.
Then, kumbaya, your old beloved bit of furniture will be put up for sale at the store for the same value of the voucher you were given.
*Yes, this is just happening at the IKEA Tempe store, which will also be hosting IKEA's first ever 'Circular Living' pop-up store. Open for eight weeks, it'll give consumers an in-depth look at the recyclable and renewable materials that make up their favourite IKEA products.
The initiative comes off the back of findings from the company's annual PEOPLE & PLANET POSITIVE REPORT 2018, which revealed 'Strayans have thrown away a whopping 13.5 million pieces of furniture that could be recycled, reused or repaired and given a second life.
It joins existing IKEA programs that take-back sofas, mattresses, batteries and light bulbs in stores across Australia.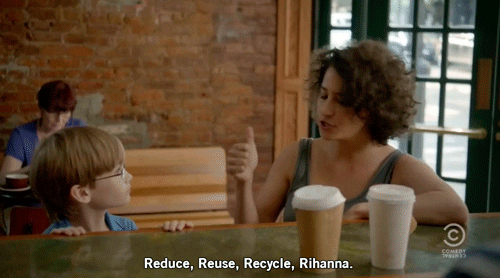 words to live by
Image: Getty Images / omada