Your boy Matt Okine is back for the second season of his Stan Original Series The Other Guy and we can't bloody wait to see what his character AJ gets up to this time 'round.
Directed by Gracie Otto, the six-part comedy series stars Matt Okine (obvs), Harriet Dyer (Stan's No Activity), Valene Kane, Christiaan Van Vuuren, Lily Sullivan (Stan's Romper Stomper) and Claudia Karvan (Newton's Law).
I copped a sweet teaser of the second season while at Stan's summer line-up party at the Opera House a few weeks back and we don't wanna give too much away but believe me when I tell you that we're in for a wild ride.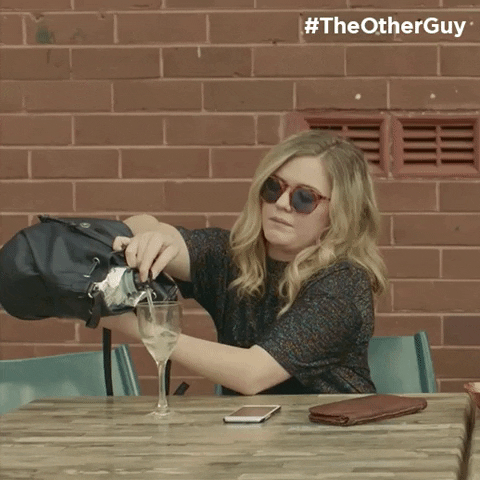 *refills wine glass in anticipation*
The following day, I spoke to Dyer, who plays AJ's hilarious bestie Stevie, and Otto, the esteemed director who was enlisted to helm season 2.
When asked if any gags or storylines went too far, Dyer gave me this juicy nugget: "I was worried in ep four with the bush wank."
Uh… the what?
Otto went more in depth on the scene in question, explaining that: "Danny Mac's doing a poo and Matt Okine's wanking at the same time."
Now, the show has been known to push the boundaries, but apparently even this made one producer go: "Nup, definitely not," Gracie recalled.
After the back and forth about whether or not the scene should be included, Okine finally stepped in and said, "Because there's so much conversation around if we should put it in or not, then we should put it in."
The actress, who spent a lot of time in the writers room this season, then offered this pearl of wisdom which perfectly captures the essence of the show.
"If you have to discuss whether it should be in the show or not, maybe it should be in the show," Dyer said.
In the trailer for the second season, AJ and Stevie can be seen smoking a joint which naturally needed to be discussed in our interview.
"Were you actually smoking?" I asked. Harriet nodded, then clarified, "Not weed, it was oregano. The blunts were herbs, but it's still bad. I'm taking carcinogens and stuff.
"They smell kind of awful, but they're quite fun to smoke," she adds.
Check out our full interview below:
Season 1 of the Stan Original Series The Other Guy is now streaming, only on Stan – Australia's unrivalled home of original productions.
Aaaaaand the brand new season will be available this Friday.
Image: Stan.