There's no denying that Stan's exclusive comedy-drama series The Bold Type is primo viewing 'coz it delivers us spicy entertainment, but I reckon there's also some v. important life lessons rooted in the show that we need to talk about.
Our three leading ladies, Kat (Aisha Dee), Jane (Katie Stevens) and Sutton (Meghann Fahy) are a trio of career-driven gals working at Scarlet Magazine who perfectly encapsulate life as a millennial in the workforce.
With the highly anticipated third season set to be released on April 10, we've pointed out all the important life lessons the girls have taught us that we should apply to our everyday lives if we have any chance of killing it like these girls do every episode.
1. Never be ashamed of working shit-kicker jobs at the start of your career
When we're first introduced to the girls, their careers have just kicked off after working "away in the assistant trenches," as Sutton put it.
As the series goes on, they manage to climb the corporate ladder and end up in more plush jobs but in order to get there, they first had to put in the hard yards and work entry-level roles.
Watching their career development reminds us that no one starts at the top, we all need to say yes to less than desirable gigs at the beginning if we hope to ultimately reach our goal.
2. The art of hustling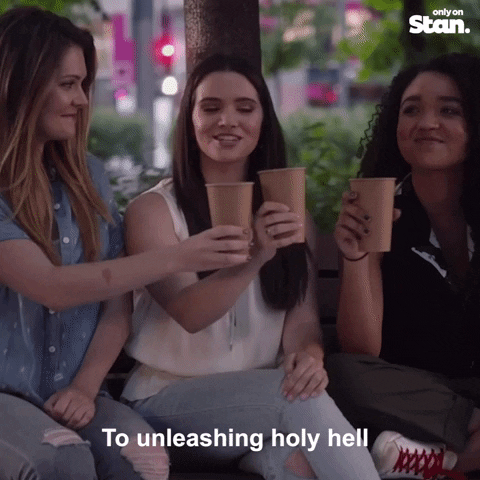 While it's important to get your hands dirty and work jobs you may or may not have initially wanted in order to further your career, be sure to keep your eyes on the prize.
Whenever a job popped up that the girls were keen on, they went ahead and applied. And even if things didn't work out, they pressed on and waited for the next opportunity.
Their persistence and tenacity should inspire us to never stop striving for something better.
If you wanna make them dollarydoos, ya gotta hustle.
3. View other women in the workforce as your allies rather than your competition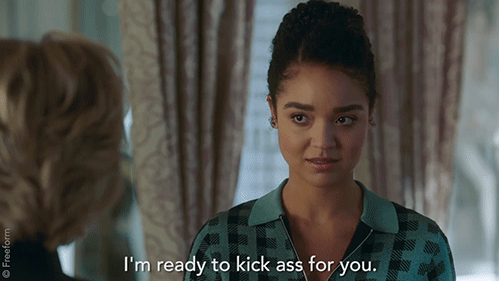 The series is rooted in the girls' friendship, not just as mates who gossip and party together, but as colleagues, first and foremost.
Whenever one of them has a work drama, she calls upon her work wife to help her troubleshoot the problem and come up with a solution.
They're not out for each other's roles or sneakily trying to tear each other down, they genuinely support one another and hope that their colleague succeeds at the mag.
4. It's important to have a good relationship with your boss
Some of my favourite scenes from the whole series is when the girls D&M with their boss, the fierce and powerful editor-in-chief of Scarlet Magazine, Jacqueline Carlyle.
While the girls can sometimes feel intimidated by Jacqueline, as we all do with our bosses, they're often pleasantly surprised with her willingness to help them out, like that scene when she rejected a call from Beyoncé to give Jane advice.
Even if you have little to no contact with your boss, it's important to have some kind of mentor at work to give you advice and let you know what you're doing right / wrong to help you be an ace employee. How else are you gonna hustle your way to the top?
5. Knowing your worth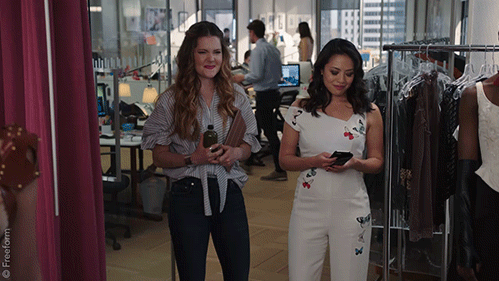 Wanting a CEO's salary at an assistant-level job is just plain stupid but at the same time, it's important to know your value in the workplace.
Take Sutton, for example. After slogging it out as an underpaid PA, she was finally offered her dream role as a fashion assistant at Scarlet but she soon learned that the pay absolutely sucked.
Rather than nuke the opportunity altogether, Sutton got creative and negotiated other perks that she could get from the role and managed to lock in a discussion about a pay rise later down the track.
As lessons 1 and 2 state, you've gotta work those shit-kicker jobs and hustle your way to the top, but don't ever be afraid to ask for more dosh and recognise when you're being taken for a ride.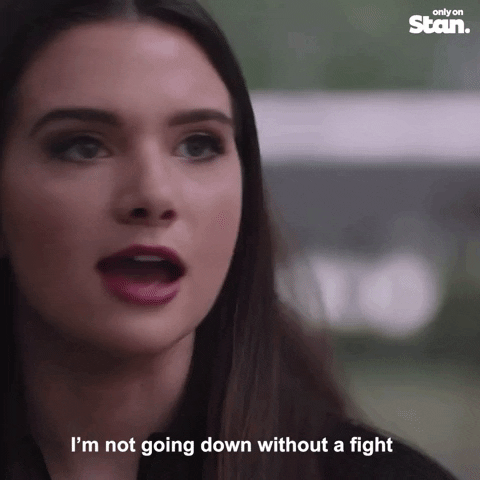 6. Everybody fucks up
I know this one sounds super obvious but we always tend to beat ourselves up when we take risks and end up falling flat on our faces, but A) that's life and B) it's way more productive to learn how to pick ourselves back up.
Being the ambitious go-getter, Jane spotted a sick job opportunity at rival mag Incite and went for it. She ultimately lands the role and quits Scarlet Magazine which was obviously a difficult thing to do but you've gotta admire the girl for taking a risk.
She ends up making a critical error at her new job and getting fired which is a very cringe-worthy moment to watch but we can all learn something from how she handled herself.
Sure, she fell apart briefly (and there's absolutely nothing wrong with that!), but she ends up finding herself on a sick new path which she never thought she'd be on and what does she have to thank for that? Her massive fuck up.
7. A supportive group of mates can help us overcome literally anything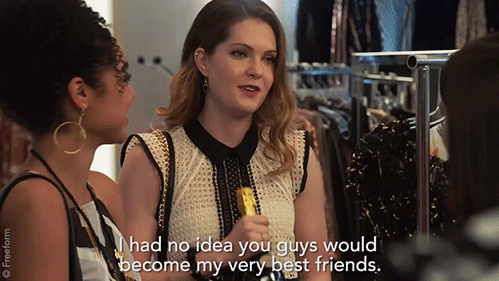 Us humans cannot handle success, failure and everything in between without our mates.
When you land an epic job, what's the first thing you do? Call your mates. When you're fired and need to get drunk to ease the pain, who do you turn to? Your mates.
Time and time again throughout the series, no matter what crap the girls are going through, it's their friendship with each other that gets them through it which reminds us that sometimes a supportive group chat discussion can solve any drama we have.
The Bold Type season 3 is coming to Stan on April 10.