When the internet was something that I had limited access to (one hour per evening, crossing fingers that nobody picked up the phone) the next biggest source of entertainment I had was my borderline-worrying obsession with collecting subscription magazines.
You know the ones; you had to write to them to order the first one for $3 and it comes with a free trinket/collectible/pot of lip gloss, and then you were locked into the subscription, and each edition cost like $15 or something. It was daylight robbery, and I loved every moment of it.
I had my favourites as a kid, and for some inexplicable reason, they mostly included gifts of makeup and body glitter. So much body glitter.
Where my brother was collecting all the cheat and walkthrough magazines for our Nintendo 64 and Playstation, and before I graduated to Dolly magazine and Alternative Press (shoutout to my 00s emos), I was deeply into owning – and maybe hoarding, just a little bit – these classic mags.
Sabrina's Secrets
The sheer social clout that came with owning a healthy Sabrina's Secrets collection was un-fuck-with-able. It was nearly as powerful as owning the newest Roxy/Billabong backpack by Term One of the school year.
A magazine based on the Melissa Joan Hart witch herself, Sabrina's Secrets gave me probably one of my first big exposures to makeup, how to bedazzle just about everything denim I owned, trying to untangle those god-damned tiny hairsprings, and the challenging world of nail art. Remember nail art pens? Yeah, weren't those a total mess.
Filled ideas for The Perfect Sleepover™ makeup tips and questionable hair tutorials (remember zig-zag parts? yeah) Sabrina's Secrets unlocked a new world of secret femme business that I didn't know about. I also had that sweet purple beauty box, too.
S Club Style
Another part of my subscription magazine bookshelf was dedicated to S Club Style, which featured every one of the original S Club 7 lineup, and also came with free gifts. Is this a running theme here? Absolutely.
Every issue, S Club showed me how – from dance routines to how to style my funky new butterfly clips and felt patches, and another nail art set, packing out my S Club Style kit with everything I needed to be a part of the iconic UK group. Do you know what else it included? More body glitter, baby.
Where S Club Style had a tour diary from a selected member in each issue, it also had some real weird fiction, involving all of the group. Not sure who wrote that, but is it still fanfic if the subject publishes it?
After S Club Style wrapped, there was S Club Juniors which…no.
I'll never ever forget this sick flip phone palette though.
Barbie
Continuing on my deep need to always be surrounded by many, many trinkets, the Barbie magazine was another that I picked up from time to time, but I don't recall having been so dedicated to it that I had a subscription. I DO remember getting one issue simply because the dolphin pendant was something I absolutely needed. Not wanted, NEEDED.
I also REALLY wanted to win the kid-sized Barbie Jeep that they had running as a competition but I never did. Maybe it was a ruse, to just get the details of every Barbie-obsessed kid in Australia.
Mind Body Spirit
This subscription really proves I've been That Witch™ since childhood, one of my biggest collections was the DeAgostini Mind Body Spirit magazine. Each issue came with some kind of new-age thing (once again, free gifts suckering me in), this was how I started my crystal collection, kicking off with a chunk of amethyst in a felt bag.
I ended up with about three ring-binder folders FULL of these magazines, and from memory, a decent stash of incense, massage oils (lol), crystals, runes, chakra-specific candles, and guides on how to read palms. Sometimes there were rude things like how to spiritually connect with your partner, and stuff on tantric sex but hey I had to learn somewhere, right?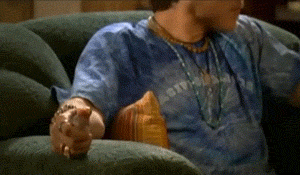 Other magazines that I eventually got obsessed with as my sudden desire to cover every available inch of my bedroom with posters grew included Smash Hits and Blunt magazine. The free gifts changed from little pots of eyeshadow and more body glitter than I could ever wear to pull-out posters and sampler CDs from punk record labels. I wasn't interested in how to braid my hair anymore, I was much too busy hacking it off in the bathroom while listening to post-hardcore.
But all the memories of pocket money I cast down the well of subscription magazines resurfaced recently when my Mum sent me a photo of my old bathroom in the family house, asking what I wanted to keep – nestled in amongst the Chi hairspray, a 90s Spice Girls eyeshadow palette, two bottles of Johnson & Johnson Holiday Skin, was my Sabrina's Secrets sharpener.
Bring back ridiculous subscription magazines, people. Let me fill my home with irrelevant trinkets and excessive amounts of body glitter.
Image: 20th Century Fox