In a strange move for the famously tight-lipped actor, Robert Pattinson just spilled on his relationships, past and present, in a new interview and we, of course, are very much here for it.
[jwplayer sNd5cmTH]
When asked by Sunday Times' Style magazine about where he stands with exes Kristen Stewart and FKA twigs, he revealed that he is on "good terms" with both ladies.
Not at all surprised that he and twigs are all G now but the fact that he's openly clearing the air with K-Stew is a 'yuge milestone considering her downright SCANDALOUS affair with director Rupert Sanders back in 2012, effectively ending their relationship.
I guess time really does heal everything.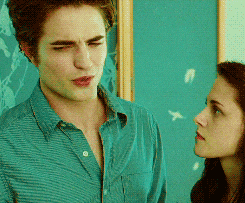 we cool, sis
Meanwhile, it was heavily rumoured that he and twigs were engaged prior to their breakup and for the first time, Pattinson addressed the rumour, claiming that they were "kind of" engaged.
How one can be "kind of" engaged, I do not know, but I'm taking it as a big fat yes, TBH.
Speaking about his relationships with both Stewart and Twigs, he simply said, "They were pretty long relationships, not like three months," implying that they will always be a big deal to him.
And as for his relationship with current (~rumoured~) girlfriend Suki Waterhouse, he was a bit more hush, hush, sadly.
Here's what he had to say about that:
"If you let people in, it devalues what love is. If a stranger on the street asked you about your relationship, you'd think it extremely rude. If you put up a wall it ends up better. I can't understand how someone can walk down the street holding hands, and it's the same as when I do it and a hundred people are taking your photo. The line between when you're performing and when you're not will eventually get washed away and you'll go completely mad."
New couple alert? 👀 Robert Pattinson and Suki Waterhouse had a PDA-filled night in London. https://t.co/xxKIOR3bDe

— E! News (@enews) July 30, 2018
Pattinson first started dating the model last year and as far as we know their love is still very much alive… unlike Edward Cullen.