There's been a whole lotta chatter about the introduction of Jughead's mother in the upcoming third season of Riverdale but there's been no indication as to which actress will bring the character to life.
Gladys, the woman with whom we owe everything 'coz she birthed Jughead, and her daughter, Jellybean, Jughead's sis, previously moved away to Toledo where they now live with Jughead's grandparents as FP's drinking problem drove them away, leaving Jughead alone with his father.
According to reports, the characters are expected to make their debut in either episode 8 or 9 of this season and while there's still no word as to who's been cast in the roles, fans have been extremely insistent on who they want to play Gladys.
There are three candidates who have had the fandom rallying behind them and tbh they're all extremely top notch choices.
The first pick for the role who has had Twitter users chanting her name since day one is Holly Marie Combs (chanting 'coz she played a witch on Charmed, get it?).
Holly is a superb choice for the role 'coz not only does she have a mass following but she also has experience playing the mother of teenagers in Pretty Little Liars.
Just as a side note: Holly is literally one of my favourite actresses of all time so this little Charmed fan is hitting the Book of Shadows for a spell to make this happen!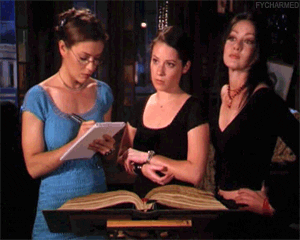 gotta be a mind control spell in here somewhere
Combs fanned the rumour by liking a bunch of tweets petitioning her to be cast in the role.
Y'all can we please stop talking about Heather now…Aria's Mom is over here liking tweets about playing Jughead's Mom okay?! #Riverdale #Choni pic.twitter.com/XRY3KrIkIf

— sheena (@sheenar1382) May 15, 2018
I heard rumors that Holly Marie Combs is playing Jughead's mum is that true? #riverdale because i'm a huge fan of charms watched it since i was 6 so if she plays Jughead's mum. My life just got soooo much better hahaha!

— Ally (@AllyshaAfrina) May 28, 2018
Who started the rumor that Holly Marie Combs will play Jughead's mom? Can't find it on any website. Please let it be trueeeee. #Riverdale ♥️

— ΝiKi???? (@Phoebe1_) May 24, 2018
Jughead's mom will be played by holly marie combs it's not up for debate it's pretty obvious

— Michaela Pratt (@lgbtpulsar) May 16, 2018
I hope they cast holly Marie combs as jughead's mom in riverdale

— Audrey Copley (@audrey_copley) July 21, 2018
The next pick for the role is a woman who's had experience playing Cole Sprouse's mumma bear during his Disney days. We are, of course, referring to Kim Rhodes who played the loveable Carey Martin in The Suite Life of Zack & Cody.
While there's been a whole lotta tweets begging for the actress to portray Cole's TV mum once again, Rhodes has been cast as the sheriff in the Supernatural spinoff Wayward Sisters so we're not sure if she'll have time for this one, but one can only hope.
Y'all are like "Who is going to play Jughead's mom?" as if there isn't ONE CHOICE AND ONE CHOICE ONLY. pic.twitter.com/uyTJ0KZnFG

— MKB (@MatthewKBegbie) July 24, 2018
they should bring in Kim Rhodes to be jughead's mom on Riverdale. @colesprouse ????????????????????????

— Brittany (@Bb_baby97) June 24, 2018
so Jughead's mom is gonna be played by Kim Rhodes right bc i can't see anyone else being his mom

— frecks (@strangertoris) February 17, 2018
The third standout is iconic '90s actress Neve Campbell who you'll recognise from old school freaky films Scream and The Craft. In both flicks she starred alongside Skeet Ulrich AKA the dude who plays Jughead's dad. How perf would that be!?
Ulrich himself has expressed interest in having Campbell join the cast as his ex.
"I mean, God, I think Neve [Campbell] would be really interesting," Ulrich told TV Line. "I know she's busy doing some films and stuff like that, so I don't know if that's a possibility. But yeah, I think she'd be very intriguing."

He added, "She's very talented, and I think the reference to Scream would really tickle people."
#Riverdale Get Neve Campbell to play Jughead's mom pic.twitter.com/YGm72VJne5

— Bryson Aperwhite (@brealnotfake) July 22, 2018
i want Neve Campbell and Millie Bobby Brown as Gladys and Jellybean Jones !!!!!!! #Riverdale pic.twitter.com/8xF9c8j1ZA

— bryan arsenault (@Bryan_Arsenault) July 25, 2018
if Neve Campbell doesn't end up playing Jughead's mom in S3 of Riverdale I will be extremely disappointed. Like, just imagine how ICONIC this reunion could be? pic.twitter.com/AViI35hMbM

— ???????????????????????????? ???????????????????????????????????? (@h_elizabethb) July 25, 2018
Now that #Riverdale  is renewed, can we please get Neve Campbell to play Skeet Ulrich's ex? (????he doesn't try to kill her this time.)

— Jess Dallow (@jldallow) April 2, 2018
Have a peek at the first trailer for the third season below and see if you can spot any clues about Jughead's mother.