Of all the Real Housewives franchises, the only one that I've ever watched religiously (aside from the now-defunct Melbourne rendition) is the Real Housewives of Beverly Hills.
[jwplayer sNd5cmTH]
I don't know why, but it's the only one that I've really, really loved.
Perhaps it's the lavish locations and scenery that I feel really embodies the opulent vibe that the show is all about.
Maybe it's because it has the most likeable cast members including queens Kyle Richards, Lisa Vanderpump, Lisa Rinna, and Erika Jayne.
Or maybe it's the trashy but brilliant storylines that have had us all gripped.
I don't know what it is, but the Real Housewives of Beverly Hills has always delivered some top notch reality television… until this season.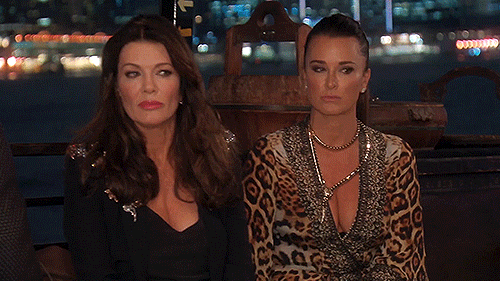 In the past, there have always been several dramas weaved throughout each season and even when one drama was super lame (Kyle and Carlton's religious debate, Brandi not liking Joyce's name etc), there were always bigger dramas to back it up and anchor the season (Munchausen, Kim's sobriety etc).
But in season nine, the one and only drama of the entire goddamn season revolves around *checks notes* a dog named Lucy Lucy Apple Juice.
A dog whom we never even meet because Dorit Kemsley had already given her away BEFORE they even started filming and it's established in the first ep that she's now gone to a good home, meaning it's a total non-issue which producers decided to spin as the storyline for the entire season anyway.
For me, the biggest drama involving this friggen' dog is the fact that the Kemsleys named her Lucy Lucy Apple Juice and not Lucy Lucy Apple Juicy.
this has PK written all over it
Okay, now we need to talk about LVP's fall from grace.
This morning it was announced that the OG reigning queen supreme of the series had not only left the show, but would not be returning for the reunion which is a major, earth-shattering, devastating blow.
After all the shit that LVP has gone through with the other girls and all the massive blow ups, especially with frenemy Kyle Richards, I refuse to believe that her final straw is over this dog.
Like, if you're gonna leave the series you've been part of for almost a decade, effectively ending several long-running friendships, could you at least do it over a storyline juicier than this dog shit? (Both puns intended).
That said, I pretty much knew that it was over when I saw her strapped to a lie-detector test.
Seriously, who allowed this shit?
even jiggy isn't buying this shit
Speaking to DailyMailTV, Lisa said that she has "no inclination" to ever show her face on the show again.
"The objective of the reunion is to reunite, right? And I have no inclination to reunite with the women who've been harassing me for 10 months now," Vanderpump said when asked if she'd return for the reunion. "So in all probability, no."
As for what that means for Vanderpump's future on the show, she admitted it would be hard to return for another season.
"I think they've made it pretty impossible for me to go back frankly," she admitted. "So … no."
Regardless of how you feel about Lisa, the woman has gone through a lot of shit this past year with her brother passing away so if she needs to leave the show then by all means, but did it have to be over something as lame as this?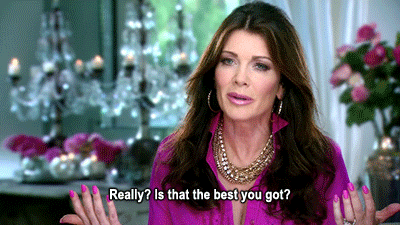 The first few eps of the dog drama were… okay? But now the show is basically unwatchable.
The likability of the remaining ladies who I once loved has kinda dwindled as the season went on so like, do I even care what they get up to after this? Probably not.
Let's face it, we only watch the show for the drama, right? Well what drama is left to talk about (especially at the reunion) with LVP gone?
This question has clearly plagued the producers too as they were so desperate to keep the show interesting that they called in their two big guns: Kim Richards and Brandi Glanville.
I haven't watched the new ep yet but I'm very curious to know why the FUCK Brandi is dining with Denise Richards (who, btw, has been dull as mud. I'm sorry, she has).
she doesn't even go here
And as for that Kim vs. Lisa as Erika Jayne feud, that was so bloody cringey that I had to mute parts of it.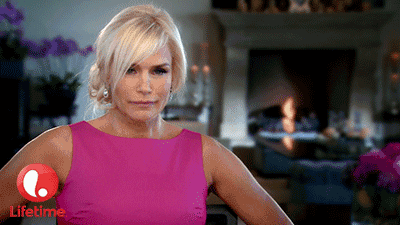 Their final saving grace for an interesting reunion was Camille who would hopefully hash it out with frenemies Rinna and Teddi but she recently bowed out of the reunion as well.
So basically the only shit-stirrer left to create drama at the reunion is… PK?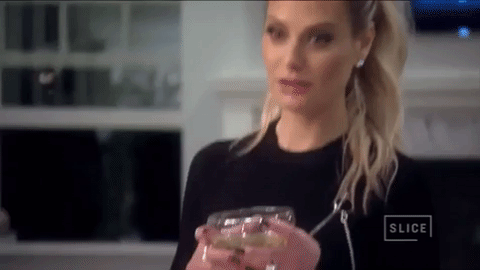 I'm not sure what producers can do to redeem the show from this point on but frankly, anything will be better than the utter garbage that they're spinning right now.
Bravo needs to pull out some kind of reality TV wizardry ASAP or we'll all be saying: