If there's one Game of Thrones character you really wouldn't wanna piss off it's Cersei Lannister. I mean, that lass stops at nothing to destroy those who betray her, all in the name of getting that sweet, sweet revenge.
And it seems the actress who plays Cersei, Lena Headey, has more in common with her on-screen counterpart than we originally thought.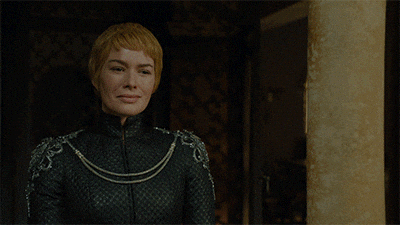 It all started when Lena shared this video on her Instagram account, showing her sitting on the plane home after finishing some intense work on her most recent film.
"Ohhh finally on the plane to go home," says Lena. "It's been a bonkers trip this one, ended with three days of hanging out with good peeps, talking about a brilliant film that I'm super proud of, Fighting With My Family – opens wide, sounds weird, February 22nd. Go and fucking see it. Adios."

Then it happened: some dead shit troll decided to go and shame Lena for her no-makeup appearance.
"don't record yourself without makeup again please" commented the complete and utter twat.
Honestly, why do people post this kind of hateful crap? Lena is a total legend who deserves more than some hater commenting on her makeup. Ugghhhhh I'm so annoyed.
But, not one to sit around and tolerate that kind of BS, Lena then posted a screenshot of the remark with the caption "I shall continue to not wear makeup. Go fuck your self."
The clap back post has already gained over 145,000 'likes' and nearly six thousand comments from fans who are all about Lena's sassiness.
Showing support for their kickass co-star, Emilia Clarke wrote "preach, beautiful woman" and Gwendoline Christie added a series of pink heart emojis.
So there you have it, yet another reminder that you don't mess with a Lannister, be it in the Seven Kingdoms or the real world.
Image: HBO