Love 'em or hate it, worship 'em or despise 'em, keep up with 'em or change the channel every time Keeping Up With The Kardashians comes on, you can't deny that the Kar-Jenner klan do not take themselves too seriously (unlike certain other reality stars) and just love to take the piss out of themselves, including model sis Kendall Jenner.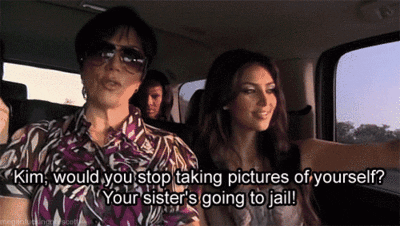 exhibit (a
The young socialite who took to Instagram to LOL about how much she and lil sister Kylie Jenner have changed since the first season of their reality series.
Kenny shared a comparison pic from season one vs. a current selfie of the Jenner sisters and wow… just wow.
Credit: Instagram
When the E! show first debuted, Kendall was 11 and Kylie was just 9 years old and over the course of 11 years, the girls have gone from background figures in the Kardashian empire to two powerhouses in their own right.
Kendall, 22 has cemented herself in the modelling world, with enviable feats under her Gucci belt. In 2018 alone she's appeared in campaigns for Missoni, Calvin Klein, Tod's, and Ochirly. She's also appeared in fashion spreads or on the cover of Vogue Korea, Harper's Bazaar, and V.
https://www.instagram.com/p/BlOUfK5gQJL/?taken-by=kendalljenner
Meanwhile Kylie, 20 is on track to become the youngest self-made billionaire ever, unseating Facebook juggernaut Mark Zuckerberg.
Kylie Cosmetics, which was founded by Jenner three years ago, has clocked in more than $630 million in sales. Currently worth $900 million (knocking big sis Kim Kardashian off the top slot with an estimated $350 million), she is on track to hit the billion-dollar mark within the next year.
https://instagram.com/p/BlBVHBMAoAZ/?utm_source=ig_embed
So my point is, make fun all you want but not only are they slaying the game, but they're making fun of themselves too.