So no one told you life was gonna be this way? And by this way, I mean waiting around like a smelly cat for a Friends reunion to be announced.
[jwplayer xCDzqVIu]
Well pivot this way, phalanges, 'coz Jennifer Aniston has given us hope that there might just BE a Friends reunion in the future.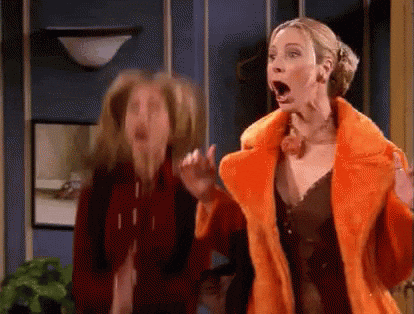 get in here!
Gal pal Rachel Green recently appeared on The Ellen Show where she was probed about a potential reboot of the iconic '90s/'00s series.
"Listen, I told you this: I would do it, the girls would do it. And the boys would do it, I'm sure," the actress told her friend Ellen DeGeneres, who, BTW, turned down the role of Phoebe Buffay.
After Ellen expressed her support, Aniston laughed and said, "Anything could happen!"
The six main cast members have been questioned about a reunion ever since the show wrapped in 2004 after ten seasons.
Lisa Kudrow, who played sassy masseuse Phoebe, once expressed doubt over a reunion, purely because of the time gap.
"The thing we liked best about the show was that they were twentysomethings and they were their own family," she said on the Today show in February 2017. "Now, they all have families, so what are we going to watch?"
Meanwhile Courteney Cox, who played neurotic chef Monica Gellar, has posted several Friends throwbacks on her Instagram lately, including making her display pic a photo of an overweight Monica.
She also posted a never-before-seen throwback photo of the cast on a flight to Las Vegas before the series premiere.
"[Burrows] handed us each a couple hundred bucks and said, 'Now go into the casino and go gamble 'cause this is the last time you'll be able to walk into a casino anonymously," Aniston recalled of the trip on Ellen.
"We had no clue what he was talking about. We're like, 'What do you mean?' And sure enough, that was the last time."
GET OFF THE PLANE AND MAKE A REUNION, DAMMIT.