Well I'm only just recovering from Idris Elba – master of the James Bond cocktease – finally, definitively saying that he will not play the sexy suave secret agent after Daniel Craig is done playing 007.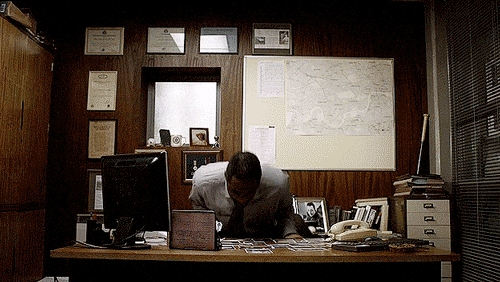 I'm very upset, but it's time to move on. And the only way to move on is to daydream about other people who I think are worthy of playing this iconic role.
[jwplayer 5jao5UgW]
Having seen 95% of the James Bond films (due to my brother being obsessed when we were kids and being 3 years older than me, having complete control of the telly), I know that there's a few bits of criteria that Bond has to adhere to.
Firstly, they have to be sexy. Not in your classically boring bland dumb handsome way, but in the way that they have some kind of sexual energy that is appealing to both men and women. James Bond the character is absolutely brimming with Big Dick Energy, so the role needs to be cast accordingly.
They also need to be physically capable. James Bond runs across the tops of trains, jumps from buildings, drives high-powered sports cars, has sex with hundreds of sexy people, kicks bad guys in the face, and saves the goddamn world. So if you don't have enough energy to do these things, please move along immediately.
Thirdly, they need to have a sense of humour. The best Bond in my eyes is Sean Connery, who wasn't your classically boring bland dumb handsome chap. Yes, he was easy on the eyes but he had a deliciously cheeky sense of humour and that Scottish accent, I CANNOT.
With all that in mind, let's dive in to my list of potential James Bond actors. RIP Idris, we barely knew ye.
Tom Hiddleston
He is not everyone's cup of English Breakfast tea, but that's why he works. Daniel Craig to me is not hot at all in normal life, but as soon as he's behind the wheel of an Aston Martin and beating up baddies, I'm suddenly hot under the collar. Hiddleston seems like a bit of a wimp but as Loki in the Avengers films he's strangely sexy. And if you've seen him in The Night Manager, you'll totally get where I'm coming from.
Chris Hemsworth
We've had one Aussie play Bond in a not-very-well-received way, so let's bloody redeem ourselves, yeah? Hemsy is hot to trot, but he's fun and zesty too. He's got the right balance of extreme good looks and an actual sense of humour, and with his ridiculous rig you know he'd be able to leap between train carriages without even panting for breath.
Chiwetel Ejiofor
Actual Nazis who were clutching their pearls about the prospect of Black Man Idris Elba playing Bond shouldn't breathe a sigh of relief yet, because I think old mate Chiwetel here would be A+. He's objectively very handsome, but have you seen Kinky Boots? The man is fit in all meanings of the word. I can definitely envision him wearing the hell out of a Tom Ford suit and sneaking around being suave. Sign him up.
James McAvoy
Bring back the Scottish brogue, och aye? In my opinion, while a little on the short side, Macca here is a good choice for this role. He's got a high level of sex appeal, is fun, has a zesty accent and looks fantastic in a suit. Also, Daniel Craig is short so clearly size doesn't matter when it comes to saving the world from evil.
Luke Evans
Hiii, Bond purists. Here's Luke Evans, a very sexy (tick!) fun (tick!) physically fit (tick!) man who is the perfect age and has the perfect accent to play 007. On paper, he's has passed every James Bond test. Oh, he's also an out gay man, which is even more perfect, in my opinion. I only said that Bond needs to be sexy enough to have vigorous sex with hundreds of people, not women. An LGBTQI Bond would be perfectly modern. Do it, Hollywood!
Henry Cavill
Probably the most traditional pick for James Bond, Henry Cavill is almost unbearably handsome. Like, in the new Mission Impossible film it hurt my eyes to look directly at his glorious face, even with that ridiculous moustache. He's also an imposingly buff specimen, so we know he can kick butt. Sure, he's played a spy before in the lacklustre Man From U.N.C.L.E but it was such a dud I think he deserves another chance. It would be a very not-diverse choice, but he'd do a good job.
Emily Blunt
Those annoying Bond purists I keep mentioning will clearly hate the idea of a female playing Bond. But I reckon Emily is perfect. Possibly the most perfect choice out of this entire list. She's box office gold, men and women are obsessed with her, she's got the right amount of high-brow Britishness, she has shown in several movies that she can kick a large amount of ass (if you haven't seen Edge of Tomorrow go away and watch it immediately) and also it's high bloody time that we have a lady Bond. So what if his name is James? Call her Jane, who cares!
Pic credits: The Night Manager, Hugo Boss, Getty / Dan MacMedan, Getty / Roy Rochlin, The Great Train Robbery, Mission Impossible Fallout, Getty / Photopix