The incoming Charmed reboot has been met with vitriol from everyone from OG cast members to loyal fans who have stuck around 20 years after the show first aired.
But despite all the hate, the show is coming to screens in just a few months and while the new spellbinding sisters wouldn't dream of replacing Prue, Piper, Phoebe and Paige, they want you to try and find a place in your witchy heart for Macy, Mel and Maggie, too.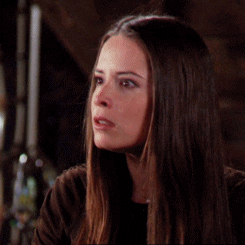 don't blow 'em up just yet, piper
The three new actresses, Madeleine Mantock, Melonie Diaz and Sarah Jeffery just appeared at the 2018 Comic-Con in San Diego where they discussed the upcoming CW reboot and debuted the first ep for lucky fans and journos (unfortunately despite my best efforts, I was unable to orb or even astral project to San Diego…).
To my delight as a die-hard fan, the girls spoke respectfully of their predecessors and acknowledged that the original witches paved the way for them and damn friggen' straight.
"We come in peace. I think the original was so wonderful, and they were really trailblazers and we could not be here without them," Madeleine said during the panel.
Sarah went on to add that while the show (obviously) borrows heavily from the original, it's essentially a brand new show with brand new Wiccan vibes.
"There are core similarities with the original show… I hope [fans] embrace it…," she said. "We want to honour it properly while bringing a modern twist. Just — come with us, see if you like it."
Executive producer Jessica O'Toole added, "Charmed is so iconic…we're so appreciative of the groundwork they laid and we wanted to be respectful of that."
She also said: "The original was so much about female empowerment and sisterhood," she said. "I felt like that's what we needed right now."
The series is set to be super woke including discussions of feminism, LGBTQ representation (middle sister Mel is a lesbian) and phrases like 'cis man' and 'no means no' peppered throughout the script, according to Cosmopolitan.
It's set for a fall release in the US which should hopefully be some time in the next few months here in Oz. In the meantime, check out the trailer below and pls ~*try*~ to keep an open mind:
https://youtu.be/loWpbevW9xg