'Round up a bunch of your horror-loving mates and scare yourselves shitless with these epic horror TV series now streaming on Stan.
If the film Wolf Creek proved one thing, it's that Aussies know damn well how to scare the living shite out of viewers which is why the iconic flick's TV adaptation is at the top of this list.
Based on the real-life backpacker serial killers Ivan Milat in the 1990s and Bradley Murdoch in 2001, the world renowned films copped their own television spinoff centred on the infamous horror villain Mick Taylor (John Jarratt).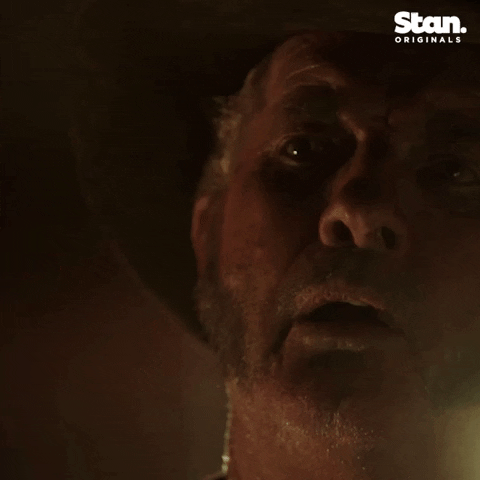 The series is about a 19-year-old American tourist (played by Aussie Lucy Fry) who seeks revenge on Taylor after he murders her family.
Wolf Creek ran for two terrifying seasons which means there's plenty of bingeing material for you and your horror-loving pals to scare yourselves shitless over.
Feel like diving into something bloody but hilarious? Then Ash vs Evil Dead is the comedy-horror masterpiece for you.
Following the huge success of the Evil Dead film franchise, a television series was adapted featuring leading lad Ash Williams (Bruce Campbell).
The series is set approximately 30 years after the Evil Dead films and sees Ash working as a common stock boy alongside his mate Pablo (Ray Santiago) and a chick named Kelly (Dana DeLorenzo).
Ash is soon forced to return to his demon-killing ways after the Evil Dead returns and threatens to destroy humanity.
The series also stars Aussie Samara Weaving and beloved New Zealand actress Lucy Lawless.
All three seasons of the series are now streaming on Stan so it's perfect if you're in the mood for some spooky laughs.
The horror genre is all about blood, gore and freaky scenes but if they throw in a super hot actor to lead the charge, you certainly won't be hearing any complaints from me.
Take The Following, for example, a psychological horror / thriller about a former FBI agent on the hunt for a serial killer who has escaped from prison. Scary stuff, right?
But with Hollywood heartthrob Kevin Bacon cast as agent Ryan Hardy, it's both a prime pick for fright night AND an absolute treat for the eyes 'coz who doesn't love a bit of Bacon?
The series ran for three seasons and also stars Younger babe Nico Tortorella and The Vow actress Jeananne Goossen.
Bacon took out the award for Best Actor on Television at the 2013 Saturn Awards for his work on the show and also scored a nomination in the same category the following year.
Filled with jaw-dropping plot twists and loads of eerie scenes, The Following is a must-watch if you wanna spook your mates.
As fans of the genre will have immediately deduced from the title, Hannibal is a series based on iconic horror villain Hannibal Lecter from Silence of the Lambs.
This sick and twisted take on the already sick and twisted tale sees a forensic psychiatrist named Dr. Hannibal Lecter working with the FBI to help them investigate a serial killer in Minnesota.
Unbeknownst to them, their trusted forensic psychiatrist is actually a cannibalistic serial killer working from the inside.
You'll recognise the actor who plays Lecter as the villain in Marvel's Doctor Strange, so clearly he knows a thing or two about bringing literary bad guys to life in terrifying ways.
All three seasons were met with critical acclaim and has been recognised by a myriad of awards from an Emmy nomination to the winning of several IGN and Saturn awards.
This series is about as bloody as it gets so if you don't mind a bit of red splashed across your screen then Dexter is the gore-fest for you.
Dexter centers on Dexter Morgan (Michael C. Hall), a forensic technician working for the Miami Metro Police Department who moonlights as a vigilante serial killer, tracking down murderers who have evaded jail and getting his own sick revenge on them.
Based on the Dexter novels by Jeff Lindsay, the series ran for an impressive eight seasons with its finale drawing the largest overall audience in Showtime's history.
The series will be particularly enjoyable for folks who have jumped on the true crime bandwagon 'coz it's all about getting inside the mind of a killer and understanding why they do the evil things they do.
If, like me, you love when the horror genre intersects with the supernatural / fantasy drama, then prepare to become OBSESSED with British horror-drama series Penny Dreadful.
This show has it all: mystical vibes, girl power, freaky witches, abject horror and, erm, Frankenstein.
We're not kidding on that last one – the series borrows heavily from 19th century Gothic fiction including Dorian Gray from Oscar Wilde's The Picture of Dorian Gray, Count Dracula from Bram Stoker's Dracula, Victor Frankenstein and his monster from Mary Shelley's Frankenstein and Henry Jekyll from Robert Louis Stevenson's Strange Case of Dr Jekyll and Mr Hyde.
Penny Dreadful also boasts a bunch of renowned stars including Reeve Carney, Timothy Dalton (Toy Story 3 and 4), award-winning actress Eva Green, Danny Sapani (Star Wars: The Last Jedi) Harry Treadaway (Gringo), major hottie Josh Hartnett and Broadway legend Patti LuPone.
The show ran for three hit seasons and it was recently announced that a spinoff series called Penny Dreadful: City of Angels is set to start production this year so now's the perf time to jump on this freaky deaky show.
Before American Horror Story came this critically acclaimed horror anthology series with a fascinating origin story.
Back in 2002, director Mick Garris held a dinner for a bunch of his director mates, a group which was jokingly named the "Masters of Horror". Thus began a series of regular dinners attended by horror directors including John Carpenter, Larry Cohen, Joe Dante, Guillermo Del Toro, Stuart Gordon, Tobe Hooper, John Landis, Eli Roth, Quentin Tarantino, Bryan Singer and James Gunn.
By 2005, Garris had created and produced an original anthology television series of one-hour movies, written and directed by many of the aforementioned "masters."
With so many incredible horror directors joining forces on the project, it's no wonder that the result was a terrifyingly well-written, Emmy award-winning series filled with many chilling stories for us to enjoy.
Image: Stan.