I was 26-years-old when I had my first sip of goon.
Not because I had been avoiding it or anything, but because I began my grog tenure with Passion Pop before moving on to vodka, then to white and sparkling wine.
I've never been against boxed wine, I just think that watching gronks at parties play 'Goon of Fortune' in my early 20s or seeing that metallicy sack be passed around just didn't appeal to me. Plus, let's face it, the word 'goon' doesn't exactly sound like a sommelier-approved bevvy, now does it?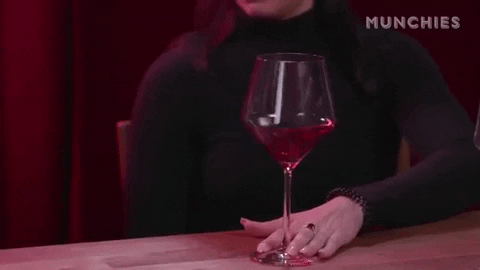 I'm getting hints of… bin juice!
But yes, one day I found myself with a cup of goon in my hand and I was pleasantly surprised to learn that it just tasted like, believe it or not, wine!
I wouldn't say that it's become my regular drink of choice, but if ever I'm heading to a party where I know I'll have to share with a bunch of people or I'm simply low on cash that week, I opt for the humble sack of goon.
But, like with every beverage, there's a scale when it comes to quality, so to help you decide which box to buy, we've ranked the goon brands.
11. Sunnyvale
Average price: $14.
Region: Victoria.
Litres: 4L.
Standard Drinks: 30.
You're really getting bang for your buck with this one. So if, say, I'm on the last week of my pay cycle and I'm fiending for a bev but I'm low on dollarydoos, this is what I roll with.
Taste-wise, it's not exactly top-tier, so if you're new to the genre, I wouldn't recommend starting with this.
But if you've got a seasoned goon palate and you're down to clown, then bloody go for it, mate.
10. Tangled Vine
Average price: $14.
Region: South Eastern Australia.
Litres: 4L.
Standard drinks: 31.6.
This is another one of my end of pay cycle picks.
Relatively tasty, with a large range of wine choices, but, not gonna lie, I'm getting a terrible headache just looking at the box (or maybe that's just PTSD from my last goon hangover).
9. Sovereign Point
Average price: $14.
Region: South Eastern Australia.
Litres: 4.4L.
Standard drinks: 40.
Ah, some fab memories are attached to this box of booze.
This one's a real bargain, given that there's more litres and standard drinks than other ranges.
In terms of taste, as my BF put it, "it gets the job done, but it's not on the fancier side."
Do with that information what you will.
8. Golden Oaks
Average price: $12.
Region: Victoria.
Litres: 4L.
Standard drinks: 30.
This one is on the cheaper side and you're not skimping on taste, which we love.
Plus the name of it just sounds so lush. You won't feel like a total yobbo rolling up to park drinks with your faaaaahbulous Golden Oaks goonie.
7. Stanley
Average price: $15.
Region: Riverland.
Litres: 4L.
Standard drinks: 35.
This one is on the more exxy side, but there's a reason for it.
Not only does it look sleeker (just check out that bold, mature packaging), but it's also a premium option, taste-wise. Plus it has 35 standard drinks, which is more than most.
A definite dinner / house party fave.
6. Coolabah
Average price: $15.
Region: Undisclosed (I'm assuming Coolabah?)
Litres: 5L.
Standard drinks: 36.
One of the more iconic brands of goon, it comes in a 25% more extra value pack so it totals to a whopping 5 litres per box, which is perf for parties and festivals (lol, remember those?) where you know you'll need to make it last.
Plus they have one of the biggest varieties of beverages I've ever seen in goon, including rosé (see above) which ya don't see very often!
5. Daybreak
Average price: $15.
Region: South Eastern Australia.
Litres: 5L.
Standard drinks: 57.5.
The box's logo bears a rising sun which conjures a happy image of park festivities, balcony sessions, or a more somber image of watching the sun come up after a big one where you're questioning your life choices, but not your decision to opt for the Daybreak because that bad boy is still funnelling out bevvies through its 5 litre casket and let's face it, at that point ya bloody need it!
It should also be noted that this brand has been known to make a great cooking wine.
4. Berri Estates
Average price: $15.
Region: Riverland region.
Litres: 5L.
Standard drinks: 39.
The website advises that you pair this one with seafood, which is always a positive sign when selecting goon varieties as this means it's a fancy pants drop.
It's also a 'yuge 5 litre casket and its name sounds hella flash, doesn't it?
According to the box, it contains more than 6 bottles worth of grog and the package itself is eco-friendly, which is always great.
3. De Bertolli
Average price: $22.
Region: Riverina region.
Litres: 5L.
Standard drinks: 39.
Coming in at #3 is one of the most upscale options out there: De Bertolli.
This award-winning selection is best known for its red wine varieties, so if you love yourself a red, this is the one to roll with.
It also comes in a sauvignon blanc sack, which is a boon 'cos it's hard to find sack sav.
Because it goes down great with grub, I recommend taking this one along with ya to dinner parties, if bottles aren't an option (they also sell wines from the bottle, BTW!).
2. Yalumba
Average price: $14.
Region: South Australia.
Litres: 2L.
Standard drinks: 21.
We have reached the promised land, ladies and gents.
The cream of the crop. The gold star goon. The Prue and Trude of boxed wine.
Yalumba (ahhh, it even sounds lush, doesn't it?) is a 2 litre goon box so, granted, it's the smallest of the bunch, but where it lacks in quantity, it totally makes up for in flavour.
Plus the size, colour and style of the box makes it look more socially acceptable, doesn't it?
This is the closest goonie to bottled wine, pretty much. *chef's kiss*
1. Caskaway
Average price: $20 (Liquorland).
Region: Murray Darling and Riverina regions.
Litres: 2.25L.
Standard drinks: Equivalent to 3 bottles.
And at numero uno is a fairly new and sparkly brand called Caskaway, which offers various styles of vino in cask form.
This one absolutely blew me away when I gave it a crack. If you've been avoiding making the switch from bottles to casks, believe me, you legit won't be able to tell the difference with this one. It's so damn delish!
There's Tempranillo, Chardonnay and my personal favourite, Rosé.
It's ideal for summer gathos as it's got the same amount of grog as three bottles, but instead of having to lug the heavy glass botts around, you've got a sleek, elegant, and totally 'grammable cask to accompany you.
Enjoy!
Matty Galea is the Senior Entertainment Editor at Pedestrian who also dabbles in woo-woo stuff like astrology and crystals and has been penning horoscopes since the start of his career. He also Tweets about pop culture and astrology and posts spicy content on Instagram.