Decisions are hard, especially when trying to choose what to do in Melbourne — it's easy to get choice paralysis with so much going on in the city. So, let's look to the stars for help.
Consulting the Zodiac, we've picked the must-do activities for each star sign when they're in the city. From exhibitions to sate even the most curious Gemini to a dumpling tour for an over-indulgent Taurus (I am one, so I'm allowed to say it), prepare to have your mind blown: wow, that is so me!
But if you're not feeling our suggestions, you can always check out Only in the City x What's On Melbourne's top picks, where they chart all the best events, restaurants and exhibitions of the week — including lots of freebies too, so you can afford to splurge at Otōto or Serai.
Aries
Embrace your competitive streak and challenge your friends to a game! Between Marche Board Game Cafe, arcade bars like B. Lucky & Sons and Archie Brothers Cirque Electric, and your pick of iconic karaoke bars like Jukes and KBox, you can take centre-stage and prove your many, many talents.
Taurus
Melbourne takes its dumplings seriously, and what better way for a Taurus to spend a day than by restaurant-hopping to try out as many of these delicious little bundles of joy as they can handle? Start off with brunch at TuanTuan for its light and spicy pork Snow Buns; try the centuries-old family recipes at Yulongfu; enjoy Nepalese dumplings at Momo Station, a well-kept secret beloved by those who know. And that's just the beginning. Still hungry? Fill your plate with street food faves at the Night Noodle Market.
Gemini
The most powerful Geminis will find the weird and wonderful sites of Melbourne on their own, but sometimes it's useful to have a guide, too. The Science Gallery is a must for its wacky and bizarre interactive works, including an AI toilet that will scour the internet for your cringe-inducing social media posts.
Monster Bing's cute, inventive desserts are essential too: where else can you get bingsu — a Korean shaved ice dessert — presented as a lilac monster? Stumble upon the hidden shops like Wunderkammer for butterflies, fossils and shells. And, This Is Not A Toy Store is filled with quirky curiosities we'd rather not spoil the surprise of…
Cancer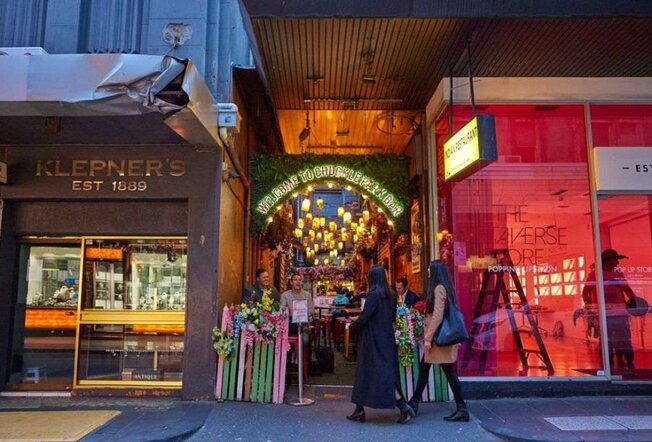 Cancers love a little overlooked gem or nook to people-watch from. There's a whole list of secret spots here, but below are a few of our faves.
Chuckle Park is a café in a laneway that even boasts its own laneway — that's like an extra cosy crab with two shells. Hit up Soi 38, a hot pot restaurant literally in a car park, explore The Old Treasury's underground gold vaults, and happen upon Melbourne's unofficial Japan town.
Leo
Leos love a bit of drama — and what's more dramatic than The Phantom of The Opera? Opera Australia bring a new production of the classic Andrew Lloyd Webber musical to life at the State Theatre from November to February. Expect visual effects that match the majesty and theatrics a Leo deserves, including a jaw-dropping recreation of an underground lake.
Or, see Shakespeare remixed with your fave pop anthems in the award-winning musical & Juliet at the Regent. 
Virgo
Virgos love a project and perfecting a craft, so CRFT*WRK just makes sense. This monthly fair at Queen Victoria Market features local artists, ceramicists, jewellers, macrame-ists and so much more — it's your best chance to get inspired with one-of-a-kind goods. (You could even do your own pop-up, too — I know you Virgos are always on your grind mentality.)
For even more trinkets, shop handmade treasures at the iconic Arts Centre Melbourne Sunday Market and get your Chrissy shop all sorted at the Boho Luxe Market: Christmas Edition.
Libra
Put that social butterfly charm and love of nice things to good use at Gimlet at Cavendish House, by restaurateur Andrew McConnell. It's a site of old-world glamour with a 2022 menu of oysters, wood-fired meats, caviar and produce-driven dishes. How luxe.
Or, be the first on the scene at new Scandi gastronomy haunt Freyja, or take a trip up to the 15th floor for drinks at Sunset House.
Scorpio
Scorpios get a bad rap. Personally, they're among my fave people (but I would say that as a Taurus). This water sign is all about intensity and can be misread as mysterious or elusive, which is why RONE's wonderful exhibition Time is a perfect match.
Set in the abandoned third-floor wing of Flinders Street Station, Time features 12 installations that reflect Melbourne's history. The haunting and multi-sensory works in this dynamic collection have something for everyone — but especially Scorpios.
Sagittarius
Always looking to expand their horizons, a Sagittarius would be amiss if they didn't hit up 100-year-old bookstore, Hill of Content. While inquisitive minds could spend hours browsing, the store also regularly hosts author events. For pre-loved reads, hit up City Basement Books or browse the State Library Victoria. For more heavy-hitters in Melbourne's art scene try ACMI Cinemas in Fed Square or The Capitol theatre for events and live performances.
Capricorn
Take a break from your workaholic side and stretch your legs with a long walk through some of Melbourne's nicest green spots. From the Carlton Gardens fountains to the Fitzroy Gardens conservatory, there are plenty of beautiful green spots to explore as you meditate and plot your next big move. Royal Botanic Gardens Victoria is chock-full of summer extras too, like movies under the stars at the Moonlight Cinema and lush brunch at Jardin Tan  Then, as you plan world domination, why not enjoy a cocktail with a view of your future empire at the rooftop bar Loop Roof? You should probably make a booking though, which I'm sure pleases your organised self immensely.
Aquarius
All about innovation and trying new things, Aquarians have to hold court at Pomelo Rooftop Bar, a cute CBD oasis with bright '80s vibes and an equally eye-catching menu. If you've been to Pomelo's sister cocktail bar Bouvardia (also worth a visit), you have an idea of what to expect: original cocktails, experiments, alcoholic slushies and their own takes on seltzers and spritzes. Yum! Stay on the oasis theme and continue the crawl to Palmz tropical rooftop or Yarra Falls for cocktails opposite the real waterfall.
Pisces
Intuitive, sensitive, empathetic and constantly oscillating between fantasy and reality: that's a perfect description for both Pisces and the work of one of their greatest designers, the late Alexander McQueen. From December 11 to April 16, the NGV will host Alexander McQueen: Mind, Mythos, Muse, the first major Aussie exhibition dedicated to the iconic designer.
With pieces on loan from the Los Angeles County Museum of Art, this is an unprecedented opportunity to get up close with almost 50 designs by McQueen and more than 70 historical artworks, all providing an insight into one of the most pivotal Pisces artists of recent history. While you're there, check out Temple of Boom in the NGV garden for beats and bevvies.
Melbourne most unmissable moments are yours to explore, only in the city.