It's regarded as a playground for celebrities, who can breathe out and enjoy a meal and some drinks away from the prying shutters of paparazzi, but for us plebs who love a bit of celeb-spotting alongside a bottle of wine, the Chateau Marmont is your #1 stop in Los Angeles.
The hotel and restaurant opened up in the late 1920s, and has since acted as a residence for many celebrities including Hunter S. Thompson, Sharon Tate, Annie Leibovitz, and where Jim Morrison apparently used up the eighth of his nine lives.
It's where James Dean apparently landed his leading role in Rebel Without A Cause by jumping through a window. And it's where Keanu Reeves' recent GQ profile takes place, with him sitting beneath a heater, getting misty-eyed about peanut butter and honey sandwiches on soft bread.
It's also morbidly famous for being the place where John Belushi passed away after an apparent overdose from a speedball, and where Helmut Newton slammed his car into the wall and died later in hospital. There's a plaque embedded in the hotel's driveway wall about that one.
It's a place where photographs are pretty much forbidden (though you can definitely get away with a selfie or a top-down basic binch shot of your lunch) and boasts people like Lindsay Lohan and Britney Spears on its previously-banned list for bad behaviour. Hell, they even ban people for tweeting.
(Note: I've just realised that I also fired off a tweet about being a loud Aussie at the Marmont, only to realise that Donald Glover was behind me the whole time. Please, I have suffered enough embarrassment from that alone, don't ban me.)
To get in, you've got to book – especially if you're wanting to visit for dinner. Giving the reception a buzz at least two weeks before you want to head in for food will put you on the reservations list, and believe me it's a weird time feeling like a mild-somebody when you can step up to the Chateau Marmont and say "I'm on the list."
Once inside, the place is gorgeous and bizarrely homely and comforting. Maybe it's the vintage interiors at work with the rich velours and leathers of the inside lobby and lounge area, or the cane and wicker furniture amongst the lush greens of the outdoor courtyard, or the fact that I spotted a printed-and-stapled edition of The Australian in the foyer while I was waiting for our table to be ready.
Either way, there's an overwhelming sense that you're just accepted here. No matter if you've just won an Oscar or you're continuously suffering from a phenomenal bout of imposter syndrome in a pair of Birkenstocks and your last clean outfit (read: me), everyone at the Chateau can get the wifi password.
In the two times that I passed through the Chateau Marmont in April, I (unknowingly) sat at a table next to Donald Glover, had Zach Braff wander past me, met a singer who was about to head off on a tour of Europe, a man named George (???) who literally everyone in the restaurant knew and made an effort to say hello to, and watched an entire Skins-level melodrama happen at a long table nearby – including one young woman tipping out all of the condiments on the table onto a single plate before dipping a whole cheeseburger into it.
Hell, I even went and choofed back a cigarette in the smoking area just to see who was out there (for the record, I think it was Ruby Rose's ex-fiancé, Phoebe Dahl, and the one (1) menthol I had gave me the worst hangover the next day.)
But the one thing that I want to profess my love for, to pen an ode to if you would let me, is something that could potentially be overlooked on the Marmont's menu. Possibly waved off in favour of the truffle fries or the heavenly dinner rolls (trust me, they're so good). I'm talking about the bolognese, and just how much I adore it.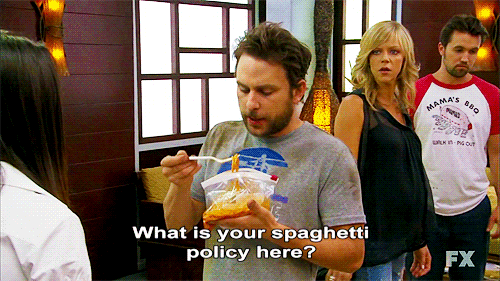 This is a dish that hasn't left my brain for over a week now. I had dinner at the Chateau Marmont on Wednesday April 17 LA time, and I can't stop thinking about that spaghett. An incredibly buttery and tummy-cuddling veal and beef ragout that has been the first spag bol that has given my mother's a run for its money.
I love it. I love the pasta. A simple classic that I normally would ignore for something a bit more ~fancy~ but it just called my name that night with its carby siren's song and I have not been the same since. Hell, I even tried to recreate it last night with no success.
If and when I ever go back to the Chateau Marmont, it won't be for the celebrity/people watching, or to be able to say that I was even there. I just want to sit with executive chef Rhoda Magbitang, and have another plate of that bolognese, and let her tell me all her secrets.
Image: Courtney Fry