Despite the whole sand issue, the beach is surely one of the most superior landscapes. You can wear next to nothing without turning heads, you get to feel like you've left the house and done something with your day even though you'll probs be lying on your towel sleeping or reading the whole time, and waves are just fun whether you're swimming or using a board. In that spirit, here's a list of the best beaches in the world so you can add one to every vacay.
Fair warning, I'm going to be adding my own bias in here unapologetically. In defence of my trustworthiness though, I grew up on the Central Coast (re: VERY beachy area, therefore, making me a beach expert) and I've personally visited a fair bunch of these. Also, I'm just always right.
I give you this warning mainly because Bondi Beach is 100% not making this list because it might be pretty as hell, but it's packed full of people who are literally only there to be 'seen'. And like, do you boo you worked for that bod, but showboating isn't relaxing at all and I will not allow it to mess with my chill beach vibes. There I said it. And yes I've been called a beach snob before.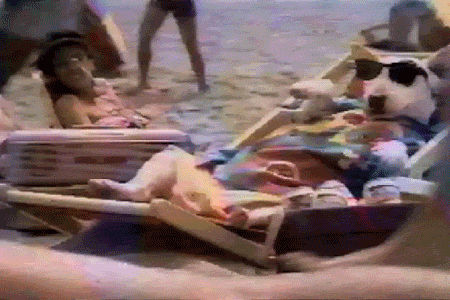 The 13 Best Beaches In The World
1. Cabo De La Vela, Colombia
This is the most underrated place I've been to so far. Don't get me wrong, the locals know the secret and for that reason you'll want to avoid any Colombian holidays. But travellers haven't caught on yet and I was there just before the Easter rush. My. God. I have never been so blown away.
For starters, to make it to the beaches you have to make your way through a full-on, flat and barren sandy desert. There are no roads so there's no way you'll make it through on your own, I'm still shocked my driver so easily knew what he was doing.
On the other side of that drive, it's like you've emerged onto some tropical island. The orange and yellow desert landscape, dotted with cacti, continues all the way to the beach edge. Most accommodation, although there's not a huge amount, is practically on the water's edge.
It's my personal opinion that the desert is to find yourself and the ocean is to not care about 'real life'. This place combines both of those! Add to that the very real thing that is Colombians legit sleeping in hammocks and you will be the most blissed out version of yourself possible.
2. Monkey Beach, Great Keppel Island, Queensland
Honestly, you can't really go wrong on this small island on the Southern Great Barrier Reef, just off the coast of Queensland. But as vouched for by my colleague, Monkey Beach is just the best of the best.
You're going to have to work for, seeing as it's a decent walk from the closest resorts, but here's a secret: all the best beaches are. It's what keeps the crowd away. Snorkeling is also a delight, not surprising considering the who reef thing, but it is a lot further out than other beaches on the island so you'll want to be a strong swimmer.
https://www.instagram.com/p/BPipGdXhm6r/
3. Mermaid Cave, Oahu, Hawaii
I have only spent one brilliant 12-hour stopover in Hawaii, but I'll be forever indebted to my local mates who took me to Oahu to live out my dreams of being a mermaid. For like 2 seconds, because who actually wants to live where sharks live? No-one.
The beach itself is fine, but nothing to write home about until you walk along the vast rocky expanse until you find the hole that leads down to the cave below. Think pebbly sand and completely clear ocean water. And when the sun shines through? Bellisimo.
Just a heads up to avoid high tide and either be super confident of your upper body strength or go with people who are willing to boost you out. On that note, don't go down in just your bikinis because if you DO have zero muscles and your mate DOES have to give you a leg up to get back out, you will both be super grateful that your butt isn't awkwardly all up in their face. Just trust me on this.
4. Seven Mile Beach, Cayman Islands, 
Jamaica
Consider this one a very high contender on my bucket list. It's not so much 'off the beaten track', which is my usual M.O., in fact with bars, restaurants, and large hotels basically on the sand it's very much bang on said track. But while those parts can get busy but as the name suggests it's a long beach. You'll find space to enjoy the crazy clear water in peace. Of course, because it's touristy there's a bunch of fun water activities you can book yourself into if you prefer your beach with a side of adventure.
https://www.instagram.com/p/BrEWjkBHwr9/
If you want to swim (and obviously you do) head along at high tide, which still isn't very high. That's also going to be a better time to snap your pics, because obvi you're going to. The huge boulders dotting the sand just really tickle my beachy fantasy. It all seems very dreamy and romantic, even if you're there solo and single af.
https://www.instagram.com/p/Bra5GCShPxH/
6. Hyams Beach, Shoalhaven, New South Wales
There's a reason this quintessential Aussie white sand beach is so damn popular. Despite its popularity, and a quick Insta search that reveals basically every Aussie bikini brand and Insta bikini model come here to take a snap, you'll never feel overcrowded. At least I never have. It aso serves up those can't-help-but-be-crazy-chill feels that you want from a beach vacay. Why? It's still relatively unknown.
https://www.instagram.com/p/Brdw-MYluev/
7. Honokalani Beach (Wai'anapanapa State Park), Maui, Hawaii
I love me a good white sand beach but BLACK sand? That's just taking the aesthetics to a whole new level and therefore earns Hawaii its second mention in this list. When bright green jungle gives way to brilliant blue waves and contrasting black shores, well gosh darn it grab ya camera and ready your Instagram. It's in a national park too, so you know this is one Hawaiian treasuree that will remain untouched.
https://www.instagram.com/p/Brg6pB-nBuA/
I'm not done with your Insta inspo just yet. How does a beach only accessible by boat and surrounded by steep, pure white cliffs sound? Not enough? How about an actual shipwreck on shore to really kick those pics up to the next level? Seriously, guys, this beach is exactly what you would come up with if you wanted a movie-esque beach paradise.
https://www.instagram.com/p/BrFbcbenArP/
9. Anse Vata, New Caledonia
How about that view? Let me tell you, 'Island time' is very real and very catching. New Caledonia is a country basically made of picturesque beaches but this one will forever remain in my heart thanks to a totally blissful week I spent there a few years back.
Food and alcohol are all readily available, although they'll cost you roughly the same as Sydney prices. The beach is popular but never overcrowded. In fact, it's super cool to watch it become an epicentre of social life as locals finish school and work and converge together to picnic, impress each other on the outdoor gym and play around on the small jetties floating offshore. And the sunsets, holy moly the sunsets.
Also, we went SUP boarding and a bunch of turtles popped their heads out at us. At least I think it was a bunch? Or we were being stalked by one very curious little guy. Either way, it was super cool!
Seriously, please, just take me back now. I took this photo and it's not even edited. At all. Those colours happen every sunset.
10. Calanques De Cassis, France
Mates, it's another one you'll have to hike to. But you'll be hiking through a national park of knock-out beauty. And like I told you before, that basically guarantees you a more remote beach without all the damn crowds. It's also quite easy to reach from Marseilles, which is always a bonus. What IS it about the sheer cliffs / hidden beach thing that is so damn appealing? I mean just cop a look:
https://www.instagram.com/p/BPZWnJogOlq/
11. Baia do Sancho,
 Brazil
The fact that I haven't been to Brazil yet makes me deeply ashamed. While many Brazilian beaches have a party part reputation, this chilled out gem is quite the opposite, probably thanks to being nestled on Fernando de Noronha Island just off the coast of the mainland. It's quite a protected little bay, so you're not really going to face hectic waves, and there's plenty of sand for that napping and/or reading thing. Consider this top of my travel list.
12. Whitehaven Beach, Hamilton Island, Queensland
I mean, I had to include it really didn't I? It makes about every top beach list with people surveyed far and wide. Plus, I don't mean to brag, but Australia just has better beaches than most places. I haven't been here since I was a tween, but even then the beauty of Whitehaven Beach, and the whole of Hamilton Island it belongs to really, really struck me.
https://www.instagram.com/p/BT0eTHphALp/
I'm not saying The Beach location directors – or whatever you call people who find filming locals, I dunno, I'm not in showbiz – but when I read the book this is closer to what I had in mind, and takes place over Thailand because Phi Phi is crawling with tourists now. Trust me, you won't get the shot you were hoping for there.
So come here instead! The name basically speaks for itself, a hidden, calm and tropical gem.
https://www.instagram.com/p/BrUKmQQhoab/