Learning to Surf in Australia is basically a right of passage. I grew up on the Central Coast, a part of the country that is basically just made of beaches and surf culture was basically everything. Did I take advantage of that to learn to surf? Nope. My teenage-punk-self hated doing what everyone else was doing. Fast forward almost a decade to the time I had a 24-hour stopover in Hawaii between a visit home and returning to Canada and a friend took me out surfing and it turns out I LOVE it. Of course, at that point, I still had another year living in the most non-beachy, -40 degree winters part of Canada, so I took learn to surf lessons in a giant wave pool. I kid you not.
Now I'm back in my sunny homeland, with a surfboard, and a mild fear of taking it out to the beach for the first time to be hit with some hectic waves. So for you, but mostly for me, I've done my research to come up with the best beaches in the country to hit up if you want to surf but have no idea what you're doing. What's my criteria? Places that typically do not have waves you'd describe as gnarley and aren't super popular so you can avoid being yelled at when you accidently ruin the wave for a pro.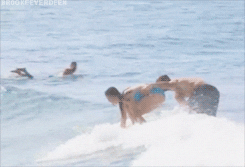 The Best Beaches To Learn To Surf In Australia
Umina Beach, Central Coast NSW
Let's kick off with a beach from my hometown, shall we? What I always loved about Cenny Coast beaches was how much quieter they were than Sydney beaches. Sorry, not sorry, but I hate Bondi so damn much. Anyway, Umina beach ticks that box, as well as being super protected from the rough and scary ocean so you're left with some chill waves perfect for newbies on the surfing scene. If you want  a few lessons to get you started or you're looking to hire a board, check out the Central Coast Surf School.
Greenmount Beach, Coolangatta QLD
Once you have the basics under control, you'll find plenty of nice beaches around this area for your intermediate-level waves, but Greenmount Beach is a popular choice for wanna-be surfers just starting out, but not as busy as a lot of the more famous beaches around. Expect gentle waves that you can ride for ages. However do plan to get there earlier in the day before ocean breezes get stronger. Walkin On Water Surf School will be able to help newbies out, not to mention they also have my fave surf school name ever.
Back Beach, Lancelin WA
Just over an hour from Perth, Lancelin Back Beach provides a little haven for surfing beginners. It's usually uncrowded and shifting sandbars mean you'll get long whitewater rides (note: no rad 'tubes' and such that look awesome but are certainly not newbie territory). Surf blog reckon the best waves are right in front of the carpark, but you can find smaller ones if you head north from there.
https://www.instagram.com/p/BqX9QPjFBJq/
Clarkes Beach, Byron Bay NSW
I'm just preparing you now, there's going to be a lot of New South Wales representation and while part of it may be bias, mostly it's just because we have more beaches that have good beginner waves. Also, you know you want to go to Byron Bay. It might be full of yuppies but it's also just nice. Clarkes Beach is protected from strong south swells and winds, just as long as you avoid high tide when the waves get kinda dumpy and that is no fun for anyone. Plus it's Byron Bay so you literally ahve no shortage of surf schools or board hires.
Inverloch Surf Beach, Inverloch VIC
I'm just going to out out there that it's way warmer up north, but I am also a coward when it comes to cold water. If you're braver than I and have yourself a good wetsuit, Inverloch Surf Beach is nice and sheltered with a flat sandbar for those of us who have no idea what we're doing. Again there's also lessons available form Offshore Surf School.
Yamba Main Beach, Yamba NSW
In this idealic spot you'll get small waves along a broad and flat beach for the new surfers and protected rock pools for their freinds to go swim in so they're not just waiting around while you try and work out what the hell you're meant to be doing. Yamba-Angourie Surf School is run by Aussie surfing champ Jeremy Walters, so there's probably few better to get tips from.
Secret Harbour Beach, Secret Harbour WA
It's a more popular beach, but I'm told it's not crazy busy so I'll allow it. Again, the broader sandbars at this beach provide slower breaking and just generally way more chill waves than a lot of beaches in this state. Of course, personally I'm not sure I could get passed the whole Great White Shark attacks in increasing numbers thing for any beaches on this side of Australia, but statistacally you'll probably still be fine.
https://www.instagram.com/p/BAes9DzmUIx/
The Farm, Shellharbour NSW
Did you know Australia has national surfing reserves? Neither did I. It has 10 in fact, and The Farm is one of them. The gradual sandbank keeps waves pretty mellow all the way along the beach. Newbies start on the north end where waves are about 1 foot high, and slowly work your way towards the south where they reach closer to 4-5 foot as your skills progress. And yup, you bet there's Australian Surf Tours Surf Camp Australia to help you out if you need.
Middleton Beach, Fleurieu Peninsula SA
The Fleurieu Peninsula in general tends to get surfers all excited, but while most of the beaches re best left to the pros, Middleton beach is where it's at if you're just starting out.A fact that's proed by the numerous surf schools set up in the area. It's a pretty popular holiday destination but on this wide, open beach that's not a problem.