We all have that one mate who always finds a way to drop a Simpsons reference into normal conversation.
Whether it's yelling "whaddaya mean the bank's outta money?!" when you go to the ATM, or simply remarking "everything's coming up Milhouse" whenever something good happens, their knowledge of Simpsons facts knows no bounds.
Now ridiculously rad, Milan-based streetwear label, Off-White, just went and released an entire range dedicated to the most iconic Simpsons quotes, courtesy of Bart Simpson.
For those playing at home, Off-White's creative director, Virgil Abloh,  is also the artistic director of Louis Vuitton's menswear.
Basically, this collection is designed to make you channel this exact mood: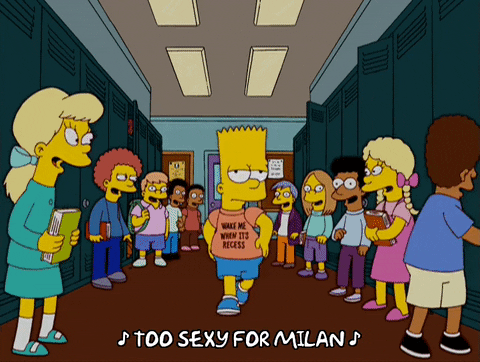 The Off-White x Simpsons capsule collection is "based on the importance [sic] connection between 90s teen spirit and its impact on pop-culture fashion at the time" explains the brand's official Instagram account.
But now for the stuff you're really after – pictures of the goods.
There's this "I'm Bart Simpson, who the hell are you?" top:
And the "Public Enemy No.1, comin' through, man" tee:
Aaand here's what the range looks like our in the real world:
Not surprisingly, when such a cool brand gets in on a nostalgic classic, you can be sure that they're gonna charge that bit more – because they know fans are gonna pay it. Fro this ices for the already cult-status range start at the $374 mark, and go up depending on the clothing style/extent of detailing
Shop the collection now on Farfetch and Mr Porter.
Off-White x Simpsons, $988 at Farfetch
Off-White x Simpsons, $438 at Farfetch 
Off-White x Simpsons, $438 at Farfetch
Off-White x Simpsons, $450 at Farfetch
Off-White x Simpsons, $374 (approx.) at Mr Porter
One thing that's almost guaranteed about this collection is that it's destined to sell out REAL quick. So if you're thinking of snapping up a piece for your Simpsons-obsessed mate's birthday, you might wanna do it sooner rather than later.
We've pulled together some sweet products we think you'll love. If you buy them, we may get a small share of the revenue. This post is independent of Pedestrian.TV's editorial and advertising teams.
Image: Instagram / [@off____white]