Fact: There are few fashion movie moments more iconic than Mr. Big getting down on one knee and proposing to Carrie Bradshaw with a pair of sapphire blue Manolo Blahnik Hangisi pumps.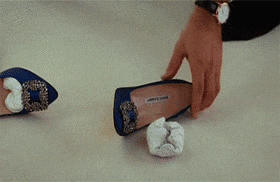 I, along with a significant portion of womankind, collectively died in that very scene.
I mean, what's not to love? It was equal parts romantic, chic and utterly unrelatable #proposalgoals.
Well get ready to feel old folks, because it turns out that movie came out 10 WHOLE YEARS AGO. Yikes.
But we didn't come here to just scare you. No sir, we also have some good news.
To celebrate the milestone fashion anniversary, Manolo Blahnik just revealed an entire capsule collection dedicated to Sex And The City.
Every shoe in the 12-piece range pays homage to the gang and their home, New York City
From the brand's signature embellished buckle, to hella sentimental detailing, this collection is the ultimate SATC fan must-have.
Scroll down to see the range in full.
First up is the OG, iconic blue pumps with "a decade of love" stitched along the side:
Alternatively, if you're not into sky-high heels, there are mid-height and flat options also available:
Next up is the style honouring the girl gang's favourite cocktail, the Cosmopolitan:
How about these STUNNERS with the streets of NYC mapped onto the actual shoes?!
Last but not least are these oh-so-versatile black and white shoes with "love" scrawled across the shoes – a funky print that even art dealer Charlotte York would approve of:
As you've probs already guessed, the Manolo collection doesn't come cheap, with styles starting off at $985 (USD) ranging all the way up to the $1,265 (USD) mark. Wowzers. A girl can dream though, right?
The collection drops online on the 15th of November 2018 and, if there's anything we know about the SATC fandom, it's that they like their fashion, so chances are these beauts are gonna sell out FAST.
Image: HBO