Like you, I definitely leapt out of bed at the ungodly hour of 4am to watch the US Presidential Inauguration. Okay fine, none of us did that, but I'm now catching up at a godly hour and hoo boy, it is a whole damn mood watching Kamala Harris being sworn in as US Vice President. Not to mention finally scoring a new President in Joe Biden.
Obviously the best bit is THERE IS A NEW PRESIDENT AND ALSO THE FIRST EVER FEMALE VICE PRESIDENT. But there are other delightful little nuggets to take away from today's proceedings, which are currently taking place in a very chilly Washington, DC.
Specifically, like many other eagle-eyed viewers I noticed a bit of a colour trend happening in the sartorial choices of US Vice President Kamala Harris (that feels SO good to type, btw), former First Lady Michelle Obama and 2016 Presidential candidate Hillary Clinton.
All three women decided to wear a variation of the colour purple, with Harris and Obama choosing outfits from Black designers Christopher John Rogers and Sergio Hudson respectively. Aside from being a trending hue right now, the colour purple has a pretty major significance in terms of US politics. Have a squiz at their outfits:
Kamala Harris
Credit: Andrew Harnik – Pool/Getty Images
US Vice President Kamala Harris rocked a royal purple outfit by Christopher John Rogers.
Michelle Obama
Credit: Jonathan Ernst-Pool/Getty Images
Michelle Obama looking like a glamourous 70s nightclub owner in this glorious burgundy number by Sergio Hudson.
Hillary Clinton
Credit: Jonathan Ernst-Pool/Getty Images
Hillary Clinton picked a bright violet pantsuit – her signature style – by Ralph Lauren, with a plum coloured coat.
I did some digging, and according to Cosmopolitan, the colour purple represents bipartisanship. It is a visual symbol of America's two major political parties – Democrat (blue) and Republican (red) – coming together, finding common ground and compromising.
The outlet points out that Hillary Clinton and her husband Bill Clinton both wore the hue during her 2016 concession speech, which discussed America's divide and called on unity for the future. Sure, that didn't actually happen, but bless them for trying I guess?!
Given the state of America right now, it makes sense for those in charge to urge the two sides of US politics to work together. So I like to believe it was no accident that Kamala Harris, Hillary Clinton and Michelle Obama gave a little subtle nod to this via their outfits.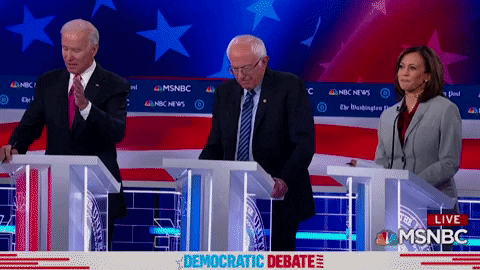 Image: Getty Images / Andrew Harnik - Pool