As I'm sure you are well aware, we live in an insanely fucking stupid time. The global political landscape has been dominated by reactionary dipshits who have emboldened the world's racists to come crawling out their holes to proudly exhibit their shitty views. Despite all of the best efforts of the Allies in World War 2, we're seeing a resurgence of actual, honest-to-God Nazis. Things are not great.
Mostly this dumb shit has been taking place in the States – where their insane reality TV show president has accidentally become a symbol of hope for racists everywhere – but we're also seeing a rise in brazen racist shittiness over here. That fact has probably never been more perfectly encapsulated than in this image: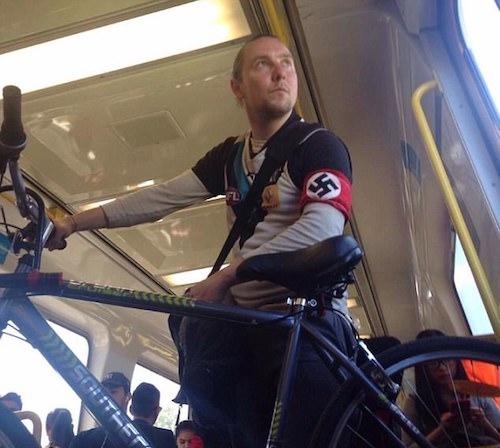 Pictured: A perfect visual metaphor for how much shit sucks at the moment.
'The Advertiser' is reporting that Port Adelaide Football Club is investigating the identity of the fuckwit pictured above at the direction of the AFL, who are unsurprisingly a bit concerned about a fucking Nazi walking around in AFL regalia.
The """gentleman""" in question was photographed in the armband and jumper combo twice over the long weekend, which I think rules out that it was an accident or some insane freak trick of the light:
Port Adelaide's general manager of member services Matthew Richardson says they are seeking him out so they can determine if he is a member and, if so, tell him to get fucked (my words, not his):
"Port Adelaide is disturbed by the image and does not condone the action of the individual. It is strictly against our supporter code of conduct. If anyone can identify the person please advise the club."
Apparently, this man is not unknown in the Clayton area, with many people commenting on a post on the Facebook group South East Anti-Racists that they have seen him before walking around in the armband.
Photo: Supplied.