Contributor: PEDESTRIAN.TV
You don't have to know footy to spot a decent specky when you see one.
For those of you unaware (basically all of NSW, from what I gather), a specky in AFL is where one footy player uses another player's shoulders as their step-ladder when they're going in for an absolute mark-and-a-half. It usually pisses off everyone around them but there's a strong chance they'll pull off a pretty awe-inspiring screamer.
Anywho, based on impressiveness alone, I've ranked seven of the more noteworthy speckies in recent AFL history. Keep in mind, it's completely objective – no bricks through windows pls.
7. Jeremy Howe – Demons (2012)
Alright, the specky was all well and good Jeremy Howe, but how about next time you actually hold onto it yeah? Rookie.
6. Andrew Walker – Carlton (2011)
Look, Andrew Walker's execution to start out with was absolutely bangin'. #22 copping a shoe to the head? Amazing, that's what you want.
That dismount though? Jesus Christ – sort it out Walker.
5. Shaun Smith – Demons (1995)
Immediately loses points for milking his fall. Get up Smith you didn't even hit the ground that hard.
He does get some props for the amount of air-time he mustered, though.
4. Michael Walters – Dockers (2018)
Genuinely, Michael Walters is maybe half the size of the West Coast player and he still managed to get up onto his shoulders. That's some sorcery right there.
Just your regular David vs. Goliath sitch, I suppose.
3. Nic Naitanui – Eagles (2011)
I mean, unlike Shaun Smith, Nic Naitanui handles his faceplant with a touch more grace.
While Smith played dead for what felt like half an hour, Naitanui brushed it off relatively quickly and, in another interesting turn of events, is still holding onto the footy. Looking at you, Howe.
2. Nick Riewoldt – Saints (2012)
Everyone else go home, this is how you create a spectacle.
Nick Riewoldt came barrelling in like a bull on steroids and essentially KO'd himself for the sake of a hella decent mark. Was it a specky? Debatable, but my god was it impressive.
1. Majak Daw – Roos (2016)
Majak Daw pulls off the seemingly impossible with the elusive specky/actually-landing-on-his-feet combo.
Did the player who got clobbered in the back of the head get a concussion? Who knows? Who cares? This was Daw's time to shine.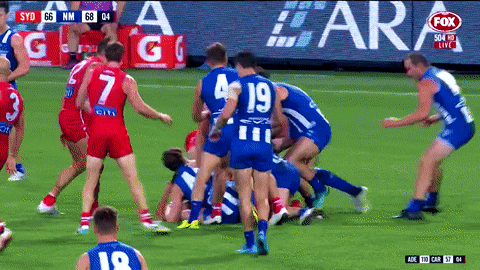 If you're not athletic in the slightest and would rather just judge professional athletes from the comfort of your own house (hello yes me), grab a Maxibon, sit back and judge your ass off.